I Love ISU scholarship campaign raises $250,773
September 14, 2017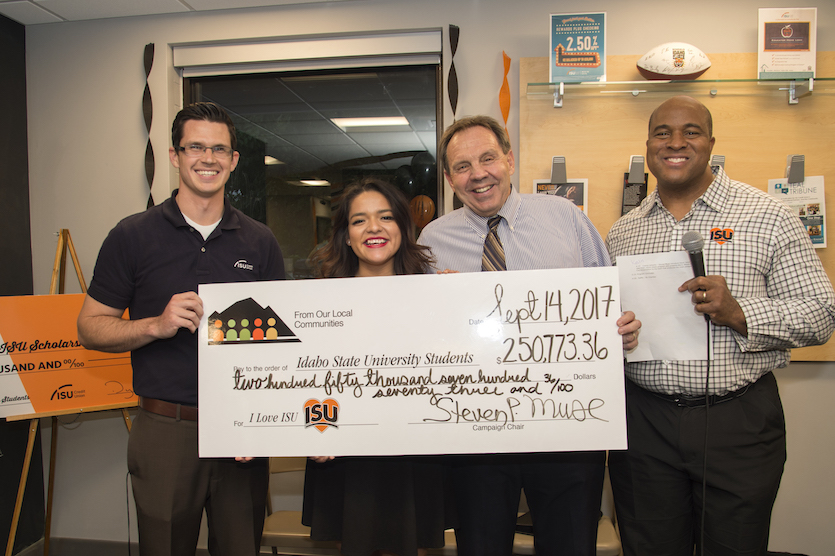 POCATELLO — The 2017 annual I Love ISU campaign concluded Thursday, Sept. 14, raising $250,773 in pledges for scholarships for Idaho students.
This year's total met the goal of $250,000 set for the campaign.
"I am grateful to the community for their involvement with I Love ISU," said 2017 I Love ISU Chair Steven Muse, Idaho Power regional customer relations manager. "Without their involvement and generous donations we couldn't have attained our goal of $250,000. Every dollar invested in higher education has a societal impact of $5. These awesome contributions by our donors and volunteers will positively benefit our communities for years to come."
The I Love ISU campaign has been conducted in Pocatello for 35 consecutive years. This annual campaign is the most recognizable fundraising effort at Idaho State University. Volunteers dedicate their time to contacting local business owners, alumni and ISU employees requesting their support for scholarships.
This year's I Love ISU co-chairs are ISU Credit Union Branch Manager Kevin Jones and John Azzola, Pocatello-Chubbuck Chamber of Commerce director of marketing and communications. More than 200 volunteers gathered pledges through weeks of peer-to-peer contacts and other activities.
The winner of this year's C. Moore Bucks Cup, a prize given to the calling team that had the most "bucks" committed, went to the Idaho State Journal calling team, which narrowly edged out the Idaho Power Company calling team. Both teams received more than 190 donations. The Idaho State Journal's winning total was 196.
Calling teams consist of community members and ISU faculty and staff. The campaign included Pocatello, Chubbuck, American Falls, Blackfoot, Idaho Falls and along with surrounding communities.
"We are proud of and pleased with the community and our volunteers who helped us reach this goal," said Kallee Valentine, ISU annual giving director. "We are sending out a big Bengal thank you to all of this year's donors and to our volunteers who worked so hard to make this goal a reality. It's the students who benefit."
Last year, 1,281 donors raised $230,748 in scholarships that went to 343 students, all Idaho residents.
This year's announcement was made at the I Love ISU Campaign Celebration and Pocatello/Chubbuck Chamber of Commerce Business After Hours held Thursday evening at the ISU Credit Union's university branch at Ninth Ave and Carter Street.
For more information on the campaign, or to give a gift, visit iloveISU.org or contact Kallee Valentine at (208)-282-2994 or valekall@isu.edu.
---
Categories: