College of Business's CEED program receives $100,000 from U.S. Bank
October 13, 2017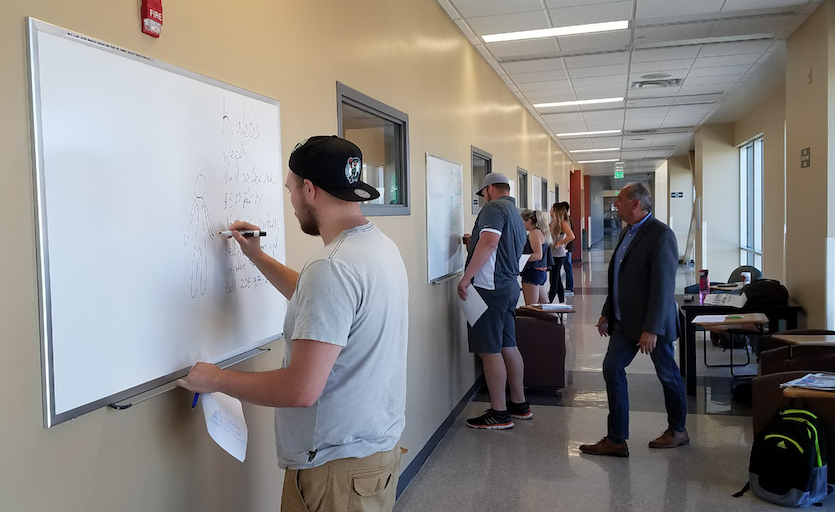 The U.S. Bank Foundation has generously made a three-year, $100,000 investment in the Idaho State University College of Business to sustain and grow the Center for Entrepreneurship and Economic Development (CEED).
CEED serves as a one-stop-shop for businesses in need of consulting, technical or financial services. CEED houses service providers such as the Small Business Development Center (SBDC), TechHelp, BengalSolutions and the Eastern Idaho Development Corporation (EIDC).
"CEED is humbled by this generous gift and show of support from U.S. Bank," said Jeff Street, director of CEED. "Recognition by such a successful organization as U.S. Bank really lifts up the efforts of the center."
With the help of U.S. Bank, CEED will promote, support and develop new business in Southeastern Idaho while also creating a culture of entrepreneurship among students, equipping them with the tools necessary to develop and build their innovative ideas.
"We plan to use this donation to create opportunities for students from high school to graduate school who are interested in entrepreneurship to develop their skills and launch their ideas into new businesses," Street said. "CEED is quite thankful to U.S. Bank for their interest in helping the College of Business in this initiative."
"At U.S. Bank, we know that a strong small business environment and an educated workforce ensure the prosperity of our communities," said Justin Smith, U.S. Bank region president. "We support programs and organizations like CEED, that help small businesses thrive, allow people to succeed in the workforce, provide pathways to higher education and gain greater financial literacy."
Thanks to U.S. Bank's support, CEED can continue to build upon their vision of transforming the region's economy and business culture – making the ISU College of Business a hub for economic development and a catalyst for intellectual property development and inspiring business success and student innovation.
"We are deeply appreciative of U.S. Bank and their generous contribution to the CEED program," said Tom Ottaway, College of Business dean. "CEED's mission has already sparked the interest of students throughout the University with participation in last year's Idaho Entrepreneurship Challenge. We are looking forward to using these funds to continue to grow ISU students' and the community's interests in entrepreneurship and innovation. U.S. Bank's support will take a major role in supporting that mission."
About U.S. Bank
Minneapolis-based U.S. Bancorp, with $464 billion in assets as of June 30, 2017, is the parent company of U.S. Bank National Association, the fifth largest commercial bank in the United States. The company operates 3,088 banking offices in 25 states and 4,826 ATMs and provides a comprehensive line of banking, investment, mortgage, trust and payment services products to consumers, businesses and institutions. Visit U.S. Bancorp on the web at www.usbank.com.
About Community Possible
Community Possible is the corporate giving and volunteer program at U.S. Bank, focused on the areas of Work, Home and Play. The company invests in programs that provide stable employment, a safe place to call home and a community connected through arts, culture, recreation and play. Philanthropic support through the U.S. Bank Foundation and corporate giving program reached $54.2 million in 2016. Visit www.usbank.com/community.