2017 Idaho State University Homecoming award recipients announced; Alumni Recognition Dinner set Sept. 29 at 6 p.m.
September 15, 2017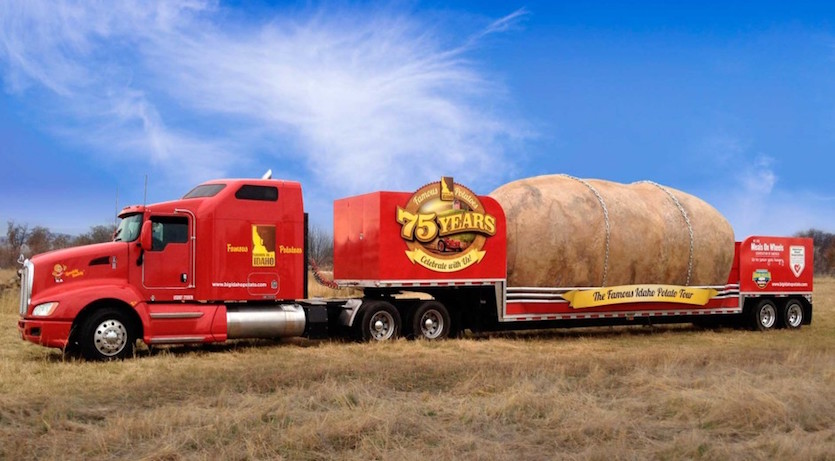 POCATELLO — Idaho State University will honor current faculty, alumni and supporters with awards during the half time of the 2017 Homecoming game 2:35 p.m. Sept. 30 at Holt Arena.
They will also be recognized at the President's Alumni Recognition Reception/Dinner running from 6 to 10 p.m. Friday, Sept. 29, in the ISU Pond Student Union Ballroom. Scheduled events include a reception at 6 p.m., dinner at 7 p.m. and recognition of Alumni Award recipients at 8 p.m. Cost is $47.70 per person. Reservations are required for assigned seating. Contact (800) 933-4781, (208) 282-3755 or alumni@isu.edu.
The award recipients are: The Grand Parade Marshal, Idaho Potato Commission; ISU Distinguished Service Award, Debbie Green; the ISU Achievement Award, Dr. Maria Wong; the William J. Bartz Award, Mike Prime; the Young Alumni Award, Hillary Merkley; the President's Medallion Award, Dr. Alan Stanek and Alan Van Orden; Distinguished Alumna Award, Marilyn Kent Byrne and ISU Alumni Special Friend, Terry Fredrickson
The biographies of each of the honorees follow:
Grand Parade Marshal — Idaho Potato Commission – The generosity of the Idaho Potato Commission is evident at Idaho State University's Holt Arena. The new digital scoreboards were installed in 2016 and have created a visually pleasing and informational resource for all in attendance, particularly the students of ISU.
Established in 1937, the Idaho Potato Commission is the state agency responsible for promoting and protecting the famous "Grown in Idaho®" seal, a federally registered trademark that assures consumers they are purchasing genuine, top-quality Idaho potatoes. Idaho's ideal growing conditions, including rich, volcanic soil, climate and irrigation differentiate Idaho potatoes from potatoes grown in other states. The Idaho Potato Commission represents more than 600 local potato growers who produce nearly two-dozen varieties of russet potatoes and red, yellow and fingerlings. Idaho produces 11 million pounds of potatoes annually on 300,000 acres and accounts for one-third of the U.S. crop each year.
ISU Distinguished Service Award — Debbie Green — Green is the director of scholarships at Idaho State University. Born and raised in Idaho Falls, Green was recruited to play golf at Idaho State University and was voted one of the most valuable players of the Big Sky Championship team in 1994.
Green earned her bachelor's and master's degrees from ISU. She has worked at ISU for more than 20 years. As a grant writer for the Institute of Rural Health, Green brought in more than $2 million in grant funding; was the director of the Idaho Rural Health Association, Idaho Community Health Corps, Idaho's Health Repayment and Community Scholarship Programs and more.
Green has been a first-year seminar instructor, is past president of the ISU Women's Club, and serves on various boards and committees geared towards helping students pursue their career goals.
In 2011 Green became associate director of scholarships, and in 2016 was promoted to director of scholarships. Debbie is married to David Green of Pocatello and has three sons, Nate, Zach and Scott.
ISU Achievement Award – Maria Wong – Wong is professor and director of the Development and Resilience Lab in the Psychology Department at Idaho State University.
She received her Ph.D. in developmental psychology from the University of Chicago and completed postdoctoral work in substance use at the University of Michigan.
Her research examined risk and protective factors associated with important developmental outcomes such as substance use, suicidal behavior and resilience.
Her current work focuses on understanding how sleep and self-regulation (control of affect, behavior and cognitive processes) affect substance use.
Her work has been funded by the National Institute on Alcohol Abuse and Alcoholism and National Institute of General Medical Sciences. Her research was cited in articles published by National Public Radio, Time Magazine, BBC, CNN, NBC, Reuters and the Associated Press.
William J. Bartz Award — Mike Prime – Prime is a retired co-founder of Option Care, a nationally franchised pharmacy provider of intravenous home therapy started in 1980.
Option Care was the first to provide this cost-effective business model and its network of franchised community based pharmacies became one of the leading providers of home infusion therapy in the United States. By 1991 Option Care had 180 pharmacies in 41 states.
Mike and his wife Robyn established the Michael T. and Robyn K. Prime Pharmacy Scholarship Endowment in 2000, and the Mike and Robyn Prime Endowment fund in 2009 to provide support for the College of Pharmacy at the L.S. Skaggs Complex at ISU-Meridian Health Science Center.
They were also inaugural supporters of the construction of the Stephens Performing Arts Center and support many other university events.
Prime received the ISU College of Pharmacy Professional Achievement Award in 1993 and is currently a member of the Idaho State University Foundation Board. Mike and Robyn are both 1970 graduates; Mike with a bachelor's degree in pharmacy and Robyn (Whitaker) with a bachelor's degree in education. Mike and Robyn have one son, David.
Young Alumni Award— Hillary Merkley – Merkley received her Bachelor of Arts degree in secondary education at Idaho State University, with a major in physical education and a minor in sociology.
Merkley, competing as a thrower, heptathlete, hurdler and relay member, won two track and field Big Sky Championships as a Bengal in 1999 and 2001. She was named Big Sky All-Academic from 1999-2001.
After completing her bachelor's degree, she competed post-collegiately in track and field and was an assistant coach at ISU. She then completed a master's degree in physical education and athletic administration at ISU, studying fatigue in elite pole vaulters.
After earning her master's degree, she held several coaching positions at the collegiate, high school and junior high school levels. In 2012, she was inducted into the ISU Hall of Fame.
In 2013, she returned to an assistant track and field coaching position at ISU and completed a master's degree in mental health counseling in 2016. She recently took over as head coach of the Idaho State University track and field program.
President's Medallion Award— Alan Stanek — Stanek and his wife Janette, established an endowment to provide annual scholarship awards to students enrolled in the music department at ISU.
Stanek is a highly respected musician who has been honored both locally and internationally. He is an accomplished clarinetist who has taught and performed worldwide, serving in many distinguished positions.
Before obtaining his status as a professor emeritus with ISU's music program, he served as conductor of the Idaho State-Civic-Symphony 1976-1980, and chair of the Department of Music during his entire tenure at ISU 1976-2001.
Janette Stanek earned her Master of Education degree in special education at ISU. Music scholarships benefit students majoring in music who possess the desire to teach, perform, inspire, and instill appreciation for the art of music.
President's Medallion Award— Alan Van Orden—Van Orden received an associate degree in accounting from Ricks College in 1960, a bachelor's degree in accounting from Idaho State University in 1965, and a master's degree in accountancy from the University of Illinois in 1966. Van Orden received his Certified Public Accountant license from the State of Idaho in November 1965. He is a member of the Naarden Financial Group LLC and is a partner in the CPA firm of Jordan & Company, Chartered where he began employment in June 1969.
He has served on many boards including the Board of Accountancy, board of the Idaho State-Civic-Symphony, Advisory Board for the Salvation Army and the Idaho Community Foundation, who earlier this year honored Van Orden as the 2017 Friend of the Foundation for Eastern Idaho. Currently, Van Orden is a member of the ISU Foundation Board of Directors and serves as the treasurer. Alan his wife Sherry May have eight children.
Distinguished Alumna Award— Marilyn Kent Byrne — Byrne graduated from ISU in 1967 after being named "Outstanding Junior Woman." As an educator, she worked with students from sixth to 12th grade as a teacher, assistant principal and principal.
After receiving her Ph.D. in mid-life, she began her career in higher education as a professor and then Dean of Graduate Studies in Educational Leadership at Doane University in Lincoln, Nebraska.
Her honors include the 1999 ISU College of Education Professional Achievement Award, as well as being the namesake of the Marilyn Kent Byrne Student Success Center at Texas A&M in the College of Education & Human Development. In addition she co-founded Pink Alliance, a nonprofit providing newly identified breast cancer patients with information, support and financial assistance.
Marilyn and Bill met in the first month of their freshman year at ISU. In honor of their 50th wedding anniversary this year, they donated George Lundeen's "Valentine" to ISU to celebrate the story of the many Bengals who fall in love and find their lifelong partners at ISU. Bill's brothers (Mike and Jim) and Marilyn's sister (Nancy) are also ISU graduates.
ISU Alumni Special Friend – Terry Fredrickson ­– Terry Fredrickson is the co-owner of the Gate City Gray's, CEO of New Day Products, serves on the Bannock Youth Foundation and is a past Vice President for ACCESS Idaho. He has served on the Regional Advisory Committee for substance abuse programs in Pocatello, and the Governor's Council for the purchases from a non-profit serving people with disabilities.
Civic affiliations for Fredrickson include membership with Civitan, the Centennial Rotary Club, and the Gate City Grays Booster Club.
A graduate of the ISU leadership program, Fredrickson is also a volunteer and a sponsor of American Legion Baseball.
He is also a recipient of the Commitment to Community award for his work to increase opportunities for individuals with disabilities. Fredrickson earned an associate's degree from College of Southern Idaho and a bachelor's degree in political science from Idaho State University, where he was Assoicated Students of ISU president.
---
Categories: