Three Idaho State University faculty members honored as Distinguished Faculty
May 9, 2016
POCATELLO – Three Idaho State University faculty were honored as Distinguished Faculty at ISU Commencement May 7 in Holt Arena.
They are Michele Brumley, an associate professor and the acting chair of Department of Psychology, Distinguished Teacher; Kim Jardine-Dickerson, clinical assistant professor and interim associate director, School of Nursing, Distinguished Service Award; and Jennifer Attebery, professor of English and chair of the Department of English, Distinguished Researcher.
"These three awards are the highest honors bestowed on faculty at Idaho State University and it is a distinction to receive one," said Laura Woodworth-Ney, ISU provost and vice president for academic affairs. "The honorees are among our most accomplished faculty, and we are proud to recognize them."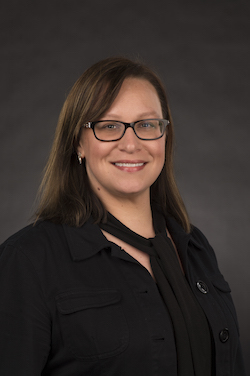 Distinguished Teacher, Michele Brumley is an associate professor and the acting chair of Department of Psychology. She joined ISU in 2007 after earning her doctorate in psychology from the University of Iowa, and completing postdoctoral research at the Miami Project to Cure Paralysis at the University of Miami Miller School of Medicine.
Brumley teaches at the undergraduate and graduate levels, including teaching Introduction to General Psychology, behavioral neuroscience courses, courses in the history of psychology and Special Problems in Psychology.
Brumley also trains and supervises graduate and undergraduate students, including Career Path Interns and INBRE research fellows, in her Developmental Behavioral Neuroscience Laboratory, giving them valuable hands-on research experience. Brumley is an editorial board member for the journal, "Developmental Psychobiology," former faculty advisor for the local chapter of Psi Chi (the international honor society in psychology), the social and behavioral sciences representative for ISU on the General Education Disciplinary Group for the Idaho State Board of Education and was selected as an ISU Master Teacher in 2010.
Other finalists for the Distinguished Teacher Award, who are 2016 Outstanding Master Teachers, are Gene Scalarone, professor of biological sciences; Erin B. Rasmussen, professor of psychology; Christopher Loether, professor of anthropology and program director of American-Indian anthropology studies; and David Kleist, chair, professor and director of assessment for accreditation, counseling and Kasiska School of Health Professions.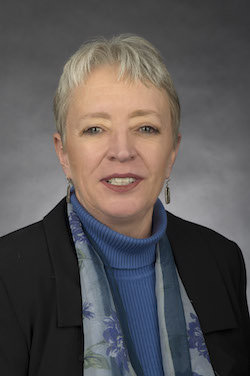 Distinguished Service Award, Kim Jardine-Dickerson is an assistant clinical professor at ISU School of Nursing. She has been teaching at the school of nursing for 12 years, and has a master's degree in nursing education. She is a board-certified psychiatric mental health nurse and a certified alcohol and drug counselor.
Jardine-Dickerson is currently interim undergraduate director in the school of nursing.
Jardine-Dickerson was instrumental in starting Idaho Crisis Intervention Team (CIT) a model of advocacy, training and education for law enforcement and other community stakeholders. She works with CIT training in Pocatello.
Jardine-Dickerson has been on the Idaho State Behavioral Health Planning Council appointed be the governor and a regional Behavioral Health Board. She has been the past National Alliance on Mental Illness (NAMI) board president. She is a member of the American Psychiatric Nurses Association (APNA), Sigma Theta Tau International (STTI) and the International Nursing Association for Clinical Simulation and Learning (INACSL).
Other finalists for the Distinguished Service Award, who are 2016 Outstanding Public Service Award winners, are David Hachey, director of pharmacy clinical services and professor; Joshua Pak, professor of chemistry; James DiSanza, chair and professor of communication, media and persuasion; and Gene Scalarone, professor of biological sciences.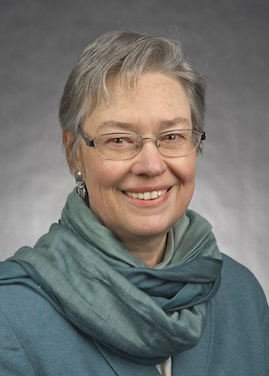 Distinguished Researcher, Jennifer Eastman Attebery is professor of English and chair of the Department of English and Philosophy. She earned her Ph.D. from Indiana University in folklore and American studies in 1985 and worked for the Idaho State Historical Society until joining the Idaho State University faculty in 1992.
Her research combines the methods and theoretical perspectives of folkloristics (the study of informal traditional culture) and history. She is the author of four books and numerous articles focusing on the Rocky Mountain West as a region where cultures converged from all directions. Retrieving traces of the multicultural West from archival sources, her work has also developed new methodologies. "Building with Logs: Western Log Construction in Context" (U of ID Press, 1998) continues to be cited in compendiums about vernacular architecture. "Up in the Rocky Mountains: Writing the Swedish Immigrant Experience" (U of MN Press, 2007) has been cited in several international studies of Jewish, Finnish, Ukrainian, Spanish, Italian and Swedish migrations. Her most recent work is "Pole Raising and Speech Making: Modalities of Swedish American Summer Celebration" (Utah State University Press, 2015).
She is moving on to a study of historical legends told by immigrants to the West. Attebery's research has received support from two Fulbright awards, one the Distinguished Fulbright Professorship at Uppsala University (2011); stipends from the Emigrant Institute, Växjö, Sweden; fellowships from the Idaho Humanities Council; sabbaticals from Idaho State University; and grants from the former Faculty Research and Humanities and Social Sciences Research committees.
Other finalists for the ISU Distinguished Researcher Award, who are 2016 Outstanding Research Award winners, are Ben Crosby, associate professor of geosciences; Bethany Schultz Hurst, assistant professor of English and philosophy; Eric Burgett, assistant professor in nuclear engineering and health physics.