Ramp Riot brings extreme sports to ISU's Holt Arena
April 5, 2016
Kayla Nelson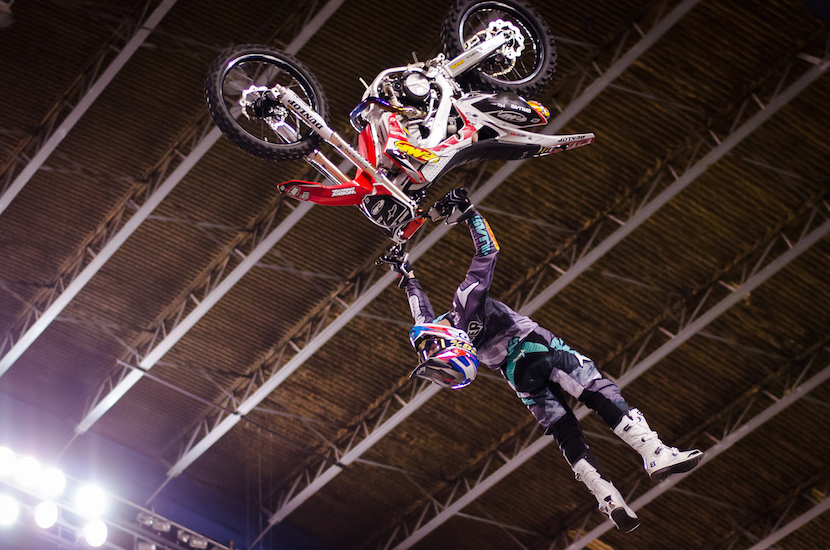 POCATELLO — Pocatello native and X-Games gold medalist Colton Satterfield is happy to call the second annual Ramp Riot the second largest extreme sports event in the United States and it will be hosted at Idaho State University's Holt Arena at 7 p.m. April 15-16.
"See how big this event is. People who went last year were blown away," Satterfield said. "This event is huge, other than the X-Games, I can't think of another contest that has risen to this size, which is crazy to say."
This year's Ramp Riot will feature new skate boarding events and never-before-seen stunts, Satterfield said. In addition, "Top of the World" X Games athletes such as Wes Agee, Red Bull's main free style motocross rider, Aaron "Wheelz" Fotheringham, Todd Potter, Jarryd McNeil, James Carter, Zach Warden and more will perform.
"It's hard to get across to people that this is not just really good athletes doing really good tricks," Satterfield said. "This is the best in the world doing absolutely brand new tricks and it's hard to convince people that because it takes place in Idaho."
Many of the stunts performed in 2015 went viral on the internet as new stunts were performed and many records were broke. X-Games has shared the event on its Instagram page.
"There's not really one thing you can put your finger on as to what is going to be the biggest moment," Satterfield said. "There are so many things you can call number one."
Satterfield competes in bicycle motocross and has been doing bicycle motocross since he was young. In 2011, Satterfield won the triples contest in Times Square. Growing up in Pocatello he always wanted to be a professional bicycle motocross rider.
"My inspiration is anyone who is willing to take big risks for their dreams," Satterfield said. "There's a bit of a lie in society that we need to settle for what we should be doing instead of what we want to be doing. The people that push that and the people that exemplify that and are willing to take risks in life are my main inspiration."
In the future, Satterfield hopes to make Ramp Riot one of the biggest contests there is. His goal is to have Ramp Riot sell out both nights in order to justify having huge bands and more athletes in the future.
Friday's main events include freestyle motocross best trick final and best whip, bicycle motocross, triple final, and record breaking attempt at a wheelchair big air front-flip. Saturday's main events include the freestyle motocross finals and "3" contest, bicycle motocross big air contest and more record attempts.
"Last year people were genuinely inspired and I was pretty surprised by the amount and level that it happen at," Satterfield said. "This year will have a lot of huge moments. Both nights will have plenty to see."
Tickets prices for one day range from $15 to $34 for a single day and $27-$61 for a two day ticket depending on what seats guests. There are also family four packs which range from $86-$110 depending on which seats guests want. In addition there are Riot Passes, which allow guests a meet and greet, course walk through and free t-shirt with poster. Tickets can be purchased over the phone at 282-3595 or online at www.isu.edu/tickets.
---
Categories: