ISU Summer Institute for Piano and Strings opens with faculty concerts
June 20, 2016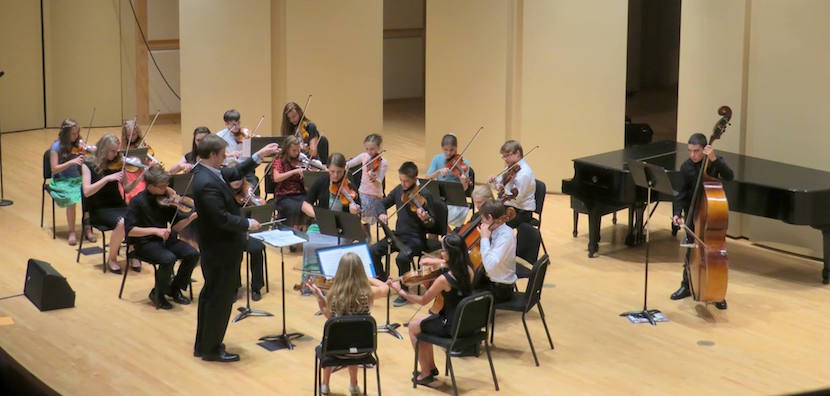 POCATELLO – The third annual Idaho State University Summer Institute for Piano and Strings starts on Monday, June 20. It will be a full week of concerts, seminars, focus classes, chamber music, coaching, crafts, contra dancing and music history and theory.
It is open to talented students in grades 8-12. Junior Strings will take place concurrently and is open to grade school and junior high students.
The theme this year is "Folk Music," featuring music by major classical composers based on folk music and folklore, or traditional music from different countries.
Opening concerts on June 20 and 21 will feature ISU faculty and alumni in a wide variety of instrumental and vocal pieces. All concerts are at the Jensen Grand Concert Hall in the Stephens Performing Arts Center at 7:30 p.m.
The June 20 concert will feature compositions by Beethoven, Schubert, Rodrigo, Villa-Lobos, Brahms and Weiner. Participating musicians are pianists Kori Bond, Mark Neiwirth, Laura Larson and Stephanie Moore; violinists KeumHwa Cha and Robert Wilson; cellist Eleanor Cox; tenors Geoffrey Friedley and Grant Harville; guitarist Bill O'Brien; and clarinetist Shandra Helman.
The June 21concert will include pieces by Albeniz, Niles, Tchaikovsky, Dvorak and Dohnanyi. Performers are soprano Diana Livingston Friedley; violinists KeumHwa Cha and Erin Chapman; violist KC Chojnacki; cellists Eleanor Cox, Karen Bechtel, Tyresha Hale, Alister Tencate, Liz Cartwright and Heather Clarke; and pianists Kori Bond, Mark Neiwirth and Natalia Lauk.
Tickets for these concerts are available at the Box Office at Stephens Performing Arts Center or by calling 282-3595. Those who buy tickets for both concerts pay half price for the second concert. Admission is $10 adults, $8 ISU faculty and staff; $5 pre-college students. ISU students are free with Bengal card.
Piano and string students will prepare pieces for small ensembles, such as duets, trios and quartets. String players will be involved in two orchestral rehearsals each day, and all students have the opportunity to perform in master classes throughout the week. Student concerts are on June 23 and 24.
The June 23 concert will feature students playing solos in a concert at 7:30 p.m., and those entering their senior year will have the opportunity to compete for ISU scholarships. The final concert on June 24 at 6:30 p.m. will present all ensembles, including string orchestra and piano duets and trios and small string ensembles. These two concerts are free and open to the public.
Three years ago, the Idaho State-Civic Symphony Summer Strings program combined with the ISU Summer Piano Institute to form SIPS, in order to share resources effectively. Now SIPS attracts students from a 300-mile radius and has become one of the most notable music camps in the region.
Major sponsors are the ISU Preparatory Piano Program, Musicians West, Portneuf Medical Center and Elmer's Restaurant.
For more information go to www.thesymphony.us/brochure.php or contact Mark Neiwirth at 208-251-8051 or Stephanie Moore at 208-301-8877.
---
Categories: