ISU student Mashaal Hijazi gives moving speech on racism at Idaho Falls TEDx Talk
May 4, 2016

POCATELLO – Idaho State University's American Pakistani Muslim student Mashaal Hijazi was given a once-in-a-lifetime opportunity to speak on the topic of racism for an Idaho Falls TEDx Talk in April.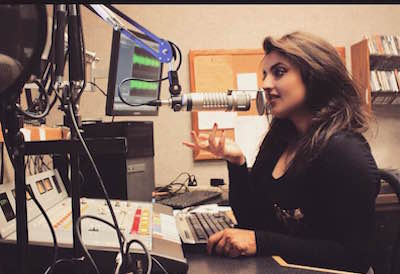 "Choosing the topic of the talk was the most difficult part of the entire process," Hijazi said. "I do quite of bit of social science and psychology research about human interactions; from love and sex, to power and politics, to racism and the way one's subconscious perceives people automatically."
Hijazi is a first-generation American Pakistani Muslim, was raised in California, who moved to Idaho when she was in high school.
"I love ISU now because I feel like it has given me the opportunities to make an impact, from being the keynote speaker of the Martin Luther King event my freshman year, to doing a TED talk and having a radio show my sophomore year," said Hijazi.
Hijazi, a sophomore, was approached to do the talk by a former TEDx speaker, Fahim Rahim, physician and philanthropist who she works with at the KISU radio station. At KISU Hijazi hosts, "Discovering Diversity," a segment where she interviews people from all types of backgrounds and cultures about their life and how their scope of the world has been altered by the way they were raised.
"I am also one of the biggest fans of TEDx, I've seen almost all of the talks regarding social sciences," Hijazi said. "Even TED radio hour is what inspired me to be a radio host. Before I even considered applying for one, it was my dream to be on that TEDx stage, for years."
TEDx Talks are a daily video podcast of the best talks and performances from the TEDx Conference, where the world's leading thinkers and doers give the talk of their lives in 18 minutes or less. Topics include technology, entertainment, design, science, business, global issues, the arts and more.
Hijazi decided to speak on racism because that is what she is most passionate about. Muslim Pakistani people are one of the world's targets for racism on many news sources, she said.
"We are ISIS, the Taliban, we produced Osama Bin Laden, 9/11. So I decided, if in this life I'm given the opportunity to do a TED talk, it has to be about my injured culture and my dying people," Hijazi said.
It took Hijazi two and a half months to prepare the talk even before she was accepted. She wanted to be ready just in case.
"It had to be perfect. I changed the speech about 20 times after grad students and professors proofread it but I eventually got what I felt would send the message properly," Hijazi said.
In Hijazi's TED talk she explains that she is a first-generation American. A majority of her friends are white Americans and all of her family members are immigrants. Her story is a tale of two Americas that she wishes to unite. The take-home message of Hijazi's talk is a better understanding of each other.
"We live in a generation where millennials are offended by everything," Hijazi said "I wanted to show, however, that when people talk about racism, it's a real issue and not just a cry for attention."
To watch Hijazi's talk visit https://www.youtube.com/watch?v=-1dFU4ktNfg&authuser=0
"This talk will hopefully help students see it from a non-defensive, or argumentative scope, and instead provide an understanding perspective to clear the muddy water we are standing in as a community," Hijazi said.
---
Categories: