ISU student advertising team takes home first-place trophy from National Student Advertising District Competition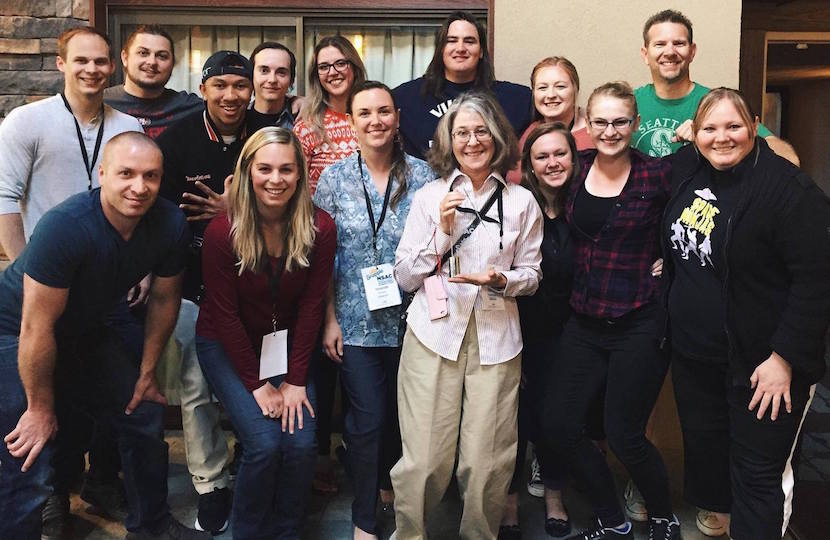 POCATELLO – Students from Idaho State University took first place in the National Student Advertising Competition for District XI in Bozeman, Montana on April 15.
This is the first time ISU has been the regional champion in this competition sponsored by the American Advertising Federation, according to Martine Beachboard, ISU advertising professor and club advisor.
The ISU team competed against six other schools from Idaho, Montana, Washington and Oregon, including the University of Oregon, which took first place at the national competition last year. The students are members of the ISU Advertising Federation, a campus club sponsored by the James. E. Rogers Department of Communication, Media and Persuasion.
Students in the ISU Advertising Federation and the CMP 4460 course (Special Projects in Advertising) spent all semester developing an integrated marketing communication campaign to pitch for this year's client, Snapple beverage, at the event. Rick Magnuson was course instructor.
Preparing to compete required considerably more time than a typical course, with many students working late nights and giving up their spring break.
"The NSAC judges were impressed with the Snapple campaign strategy and creative executions, but one thing that particularly struck me was their comment on the chemistry among the ISU team members," Beachboard said. "They noticed that our students enjoyed working together. I noticed it too. I'm really proud, pleased and grateful. They put in a lot of long hours and late nights. It feels good to see them get the recognition they deserve."
Students from both the College of Arts and Letters and the College of Business on the team included Travis Williams, Andreas Wiesneth, Daniel Wiesneth, Melissa Turner, Shelby Sharron, Khary Livingston, Nikk Kroon, John Kenison, Jessica Kaschmitter, Tavonte Jackson, Hailey Dugan, Alison Duffin, Emily Crighton, Colby Borup, Amanda Bennett, Chance Bennett and Liz Austill.
"Working with such talented, motivated students has been the highlight of my ISU experience," said NSAC team member, Amanda Bennett. "About a month into the semester, I seriously considered withdrawing from the class because the time commitment was daunting. However, I was convinced to stick it out and I will forever be grateful that I did. Competing at NSAC was more fun than I ever could have imagined and I can't wait to see us take it all the way to nationals."
The team also brought home two AdStar Awards. Other students at the competition vote on these "people's choice-style" honors. Chance Bennett, a senior majoring in communication, media and persuasion, won Best Male Presenter, and Travis Williams and John Kenison were recognized for creating the Best Ad in Any Medium for a TV commercial they produced called "Confessional." The campaign featured original music composed by Kenison and was produced entirely with Snapple bottles and caps.
The NSAC team has now qualified for the semi-finals for the national competition. They will participate in a video interview on May 5 and then the client will select the top eight schools to compete at nationals in Anaheim, Calif., in early June. About 150 colleges participate in the annual marketing communication contest, which is judged by brand and industry professionals.
---
Categories: