ISU-Meridian hosts regional training at new Bioskills Learning Center
July 1, 2016

More than 200 doctors, nurses, paramedics, students and other health professionals received specialized training in a technique called intraosseous infusion June 21 and 22 at ISU-Meridian.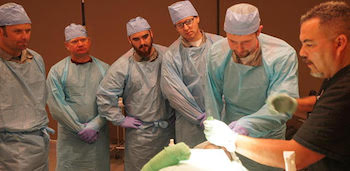 Intraosseous infusion is a process of injecting fluids and medication directly into the blood stream through bone marrow when intravenous access is not feasible.
The event – held inside the L.S. and Aline Skaggs Treasure Valley Anatomy and Physiology Laboratories and Bioskills Learning Center – was sponsored by Teleflex, which created the EZIO device used in the procedure.
Teleflex officials, who conduct more than 100 training sessions around the country each year, gave high marks to the Meridian facility and its state-of- the-art technology.
"Many ISU departments and multiple local and nationwide partners came together to support this event. It was truly a team effort. The end result was an exceptional and effective training program for hundreds of Idaho health care workers that will likely lead to improved medical outcomes for Idahoans," said Lorinda Smith, clinical assistant professor and laboratories manager.
---
Categories: