ISU Department of Mechanical Engineering students presented their senior design projects for the American Society of Mechanical Engineering
May 2, 2016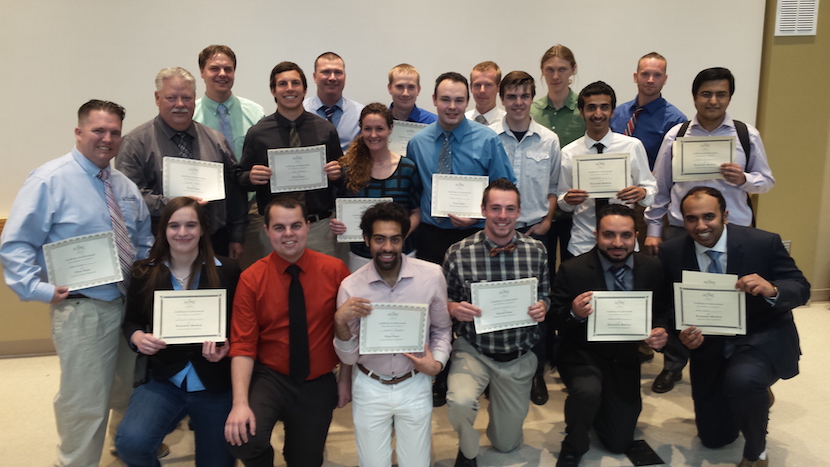 POCATELLO – Idaho State University senior students in the Department of Mechanical Engineering presented their senior design projects at a meeting of the Idaho Section of the American Society of Mechanical Engineering.
Joe Palmer, Mike Clark and David Duncan represented the ASME Idaho Section and served as judges.
"The first thing we noticed was that all the presenters were very well prepared," said Joe Palmer, mechanical engineer for the Idaho National Laboratory. "The presentations were delivered with a high degree of professionalism and all of them fell within the allocated time limits."

Teams were ranked based on the presentations and the top three were chosen. All mechanical engineering students who participated in the presentation for the ASME Idaho Section received an offer by the section to cover the $225 fee for the Fundamentals of Engineering exam, providing they pass the exam. In addition, the students who were part of the top three teams also received an offer to have their study materials paid for, approximately a $150 value.

The teams included:

• First place: Jason Hendricks and Thomas Johnson designed a system to heat large commercial greenhouses using hot spring water as the main source of heat.

• Second place: Jerron Berrett, Larinda Nichols, Cody Race and Sage Thibodeau designed a system to remotely load and unload radioactive samples from a transport system to examination equipment.

• Third place: Hussain Alawadh, Darald Holmes, Cody Sorensen and Paul Wadsworth designed a sulfate conveyor and walkway replacement system for Simplot's Don Plant.

• Khaled Aldhufairi and Abbas Alhayik used solar and nuclear energy to symbiotically supply electricity and power for water desalination.

• Yousef Alfadhli, Abdullah Alsagoor and Ahmad Helal designed a robot to extinguish fires in factories with minimum human interference.

• Chris Bitikofer, Terran Engle and Brandyn Krieger designed a water treatment system that uses hydrodynamic cavitation and UV radiation.

• Paulina Hyde, Mike McCarty and Robert Hymas designed a system to safely transport calcine from one Idaho National Laboratory storage facility in to another.

"Our ASME Idaho Section would like to continue doing this every semester. The three of us thoroughly enjoyed our time and found the enthusiasm of these young engineers truly inspiring," Palmer said.

For more information on the ASME visit www.asme.org, or contact Senior Lecturer of mechanical engineering, Mary Hofle at hoflmary@isu.edu.
---
Categories: