Idaho State University's RECOVER wildfire-fighting tool continues to be improved: featured in NASA's 2016 "Spinoff" annual report
May 27, 2016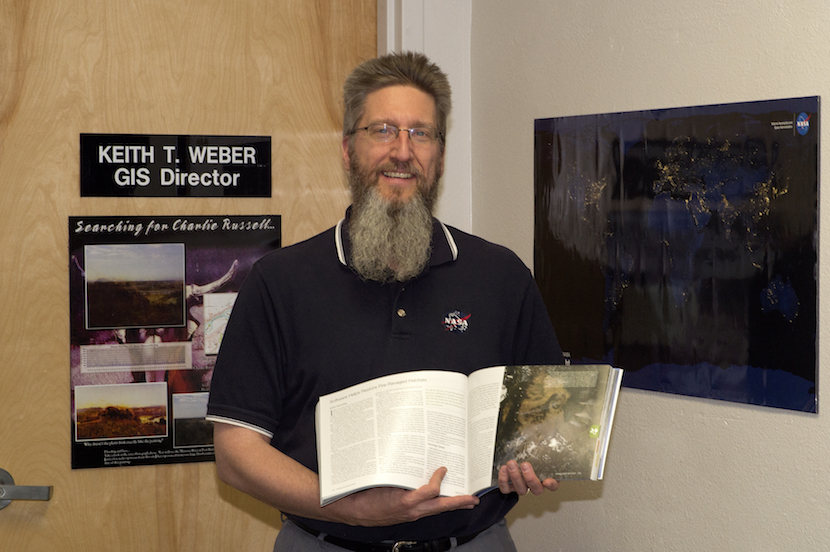 POCATELLO – As wildfire season approaches in Idaho and the Intermountain West, Idaho State University and NASA researchers continue to work on and improve a geographic information system (GIS)-based wildfire recovery and decision-support program.
Since 2011, ISU and the NASA have been working on the Rehabilitation Capability Convergence for Ecosystem Recover (RECOVER) project, designed for use in rapidly planning the recovery of wildfires. It is also proving useful in fighting active wildfires, including the Fort McMurray wildfire currently burning in Alberta, Canada.
NASA is so impressed with the quality of this program that RECOVER was featured this spring in its premier annual publication featuring, "Spinoff," which features successful NASA technologies. The RECOVER program is detailed in the article
"Software Helps Restore Fire-Ravaged Habitats."
Using RECOVER, it takes a few minutes for Bureau of Land Management or other agency wildfire managers to produce a detailed report that gives them the information needed to help plan for the recovery of a wildfire or to use to fight an active wildfire.
"The growth of the application has been excellent and we are improving it all the time," said Keith Weber, Director of the ISU GIS Training and Research Center and the principal investigator on the project.
For the 2016 wildfire season, users can better use their mobile devices to interact with the system while they are out in the field. They can use RECOVER maps on their phones and electronic notebooks while on site at a fire, or use their mobile devices to record data from the field to update web-based RECOVER maps and fire models.
RECOVER now also offers a new web interface to end users. Thus, its users ­­– such as the BLM, U.S. Forest Service, Idaho Department of Lands, California Department of Transportation, or National Weather Service – can initiate their own RECOVER map on the internet without having to contact either ISU or NASA.
"For example," Weber said, "from their own computer they could upload a fire perimeter and put a box around how much data they want chopped out thereby creating their own cookie-cutter, then they simply give it a name, push a 'submit button' and within seven minutes they will have an email from RECOVER that has a URL to a web map they can start using immediately."
Accessibility and security for the system have also been improved and new data sets are available. The new data sets include in-depth information on slope and give fire managers information they can use to determine the probability of landslides and debris flows following wildfire.
"With all these new changes RECOVER has, without a doubt, become more powerful and user friendly," Weber said.
A video explaining RECOVER is located online at https://youtu.be/OTdvhDj0AII.
Cutline info: Keith Weber, Director of the ISU GIS Training and Research Center, poses with a copy of NASA's "Spinoff" publication, which featured a story on the RECOVER program.

---
Categories: