Idaho State University unveils peace pole
May 5, 2016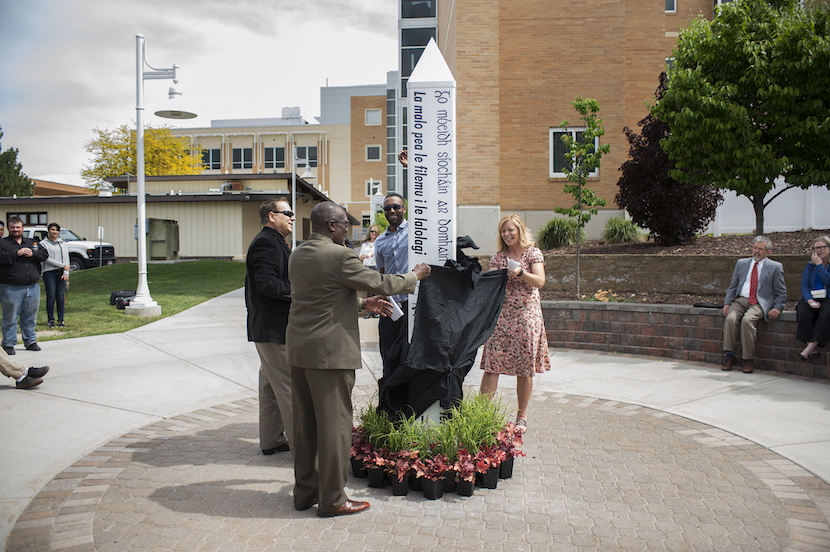 POCATELLO — Idaho State University officials unveiled an 8-foot tall peace pole, a yearlong project spearheaded by student Alma Jam, Wednesday afternoon.
The pole, located on the ISU campus near the Rendezvous Center bears the words "May peace prevail on earth" in 16 different languages. Peace poles such as the ISU pole are found in more than 180 countries around the world.
Jam, a student majoring in sociology, brought the idea for a pole to the Diversity Resource Center last year. On Wednesday, she thanked her student committee and several ISU staff and faculty members for supporting her in her goals.
"Our dreams are finally coming true," she said.
Ram Eddings, Diversity Center program coordinator, said he was proud of Jam and her fellow students for their hard work on the project.
"We have really great students who really want to make this university the best it can be," he said.
Vice President for Finance and Administration James Fletcher said Wednesday that the peace pole will serve as a reminder to everyone to continually work for peace.
"It is an important symbol, to all of us, of the peace we want to see in the world," he said.
Peace poles with the inscription "May peace prevail on earth" are an international tradition begun in Japan in 1955.
---
Categories: