Idaho State University to hold Conservatory Theatre Camp for middle and high school students July 25-29
June 28, 2016

POCATELLO – Idaho State University's School of Performing Arts will host the annual Idaho State University Conservatory Theatre Camp July 25-29 in the Stephens Performing Arts Center.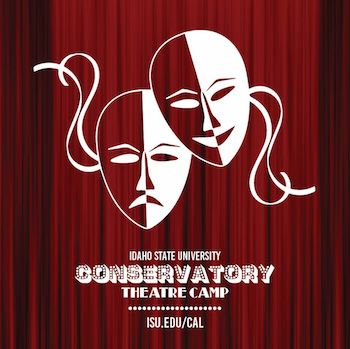 The camp will offer a unique, hands-on learning experience for junior high- and high school-age kids of every performance and experience level. Students will have the opportunity to learn from ISU theatre Professor and Chair Norm Schroder, community professionals, students in ISU's theatre program and ISU alumni.
The camp will include keynote presentations and classes on stage combat, auditions, scenic and lighting design, improvisation and more. At the end of the camp, students will have the opportunity to perform for a chance to win scholarships for next year's camp.
"We are excited to give students in Idaho a chance to learn from our incredible theatre and dance students and community professionals, and have the opportunity to perform in the renowned Stephens Performing Arts Center," said Jenna Davies, camp director. "We want to help them grow their theatrical skills and learn more at ISU."
Staff for the camp include Debbie Bray teaching costuming and design and Brittany Hooper for auditions and resumes. Theatre students Jack Johnson, Michael Fornarotto, Johnie Rankin, Venus Gulbranson, Rachel Fornarotto and Davies will also teach classes.
Tuition for the Conservatory Theatre Camp is $350 for local students. This price includes lunch each day of camp, full supplies, one headshot and materials. Students travelling out of town can contact Davies for housing information. Registration can be found at isu.edu/cal.
For more information on the Conservatory Theatre Camp, contact Jenna Davies at philjenn@isu.edu or 241-8506.
---
Categories: