Idaho State University switches to RAVE Guardian System for campus safety
June 8, 2016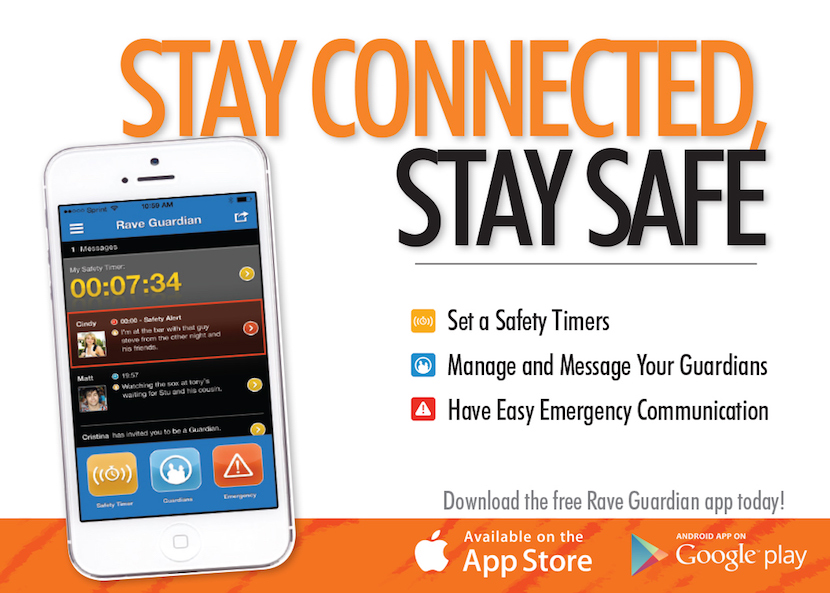 POCATELLO – To better serve its campus community in today's digital world, Idaho State University has removed its blue light phones and implemented the use of a smart phone app that serves as a mobile duress button and virtual safety escort.
The app is called RAVE Guardian and it is a component of ISU's emergency notification system that uses text messages, telephone calls, and emails to forewarn of critical situations that may be impacting the campus.
RAVE Guardian, with its many features, was unveiled in 2015. When the duress button is pressed, depending upon the information each user inputs into the settings, the individual's GPS location, telephone number, photograph and vehicle information will be transmitted immediately to ISU Public Safety. Faculty and staff will be able to upload their building, floor and office location into the app for an expeditious response by ISU Public Safety.
The virtual safety escort feature allows a person to give a destination point and expected time of arrival. If the app is not deactivated before the arrival time, ISU Public Safety is notified with GPS information along with two other "Guardians" of the person's choice.
The app can be used to call 911 from anywhere and individuals are able to add family members, friends and others to be their guardians and to communicate with them within the app as needed.
The phone app is a free download available for Android and Apple smart phones
"Using the phone app makes so much more sense than having to find a blue light pole that may be several blocks away when you can simply access the RAVE Guardian app while on any of our campuses. The only geographical boundary involves access to cell phone coverage," Eakins said. "Today's student is more likely to use a cell phone than run to a blue light pole if there is an emergency."
ISU began installing the blue light emergency poles in 1996. During the past 20 years, Eakins, who joined ISU a year ago, could not confirm that anyone had ever used the emergency poles for legitimate emergency purposes. They were typically set off when school groups of younger-aged students pushed the emergency button or when the poles have malfunctioned.
At one point there were nine blue light poles on the Pocatello campus, six at the ISU-Idaho Falls at University Place campus, and two at the ISU-Meridian campus. All of these poles have either been removed or in the process of removal.
For further information on downloading, activating and using the app, contact ISU Public Safety at 282-2911.
---
Categories: