Idaho State University Summer Theatre Program helps bring community and the university together; 'Oliver!' runs June 10-11, 16-18
May 19, 2016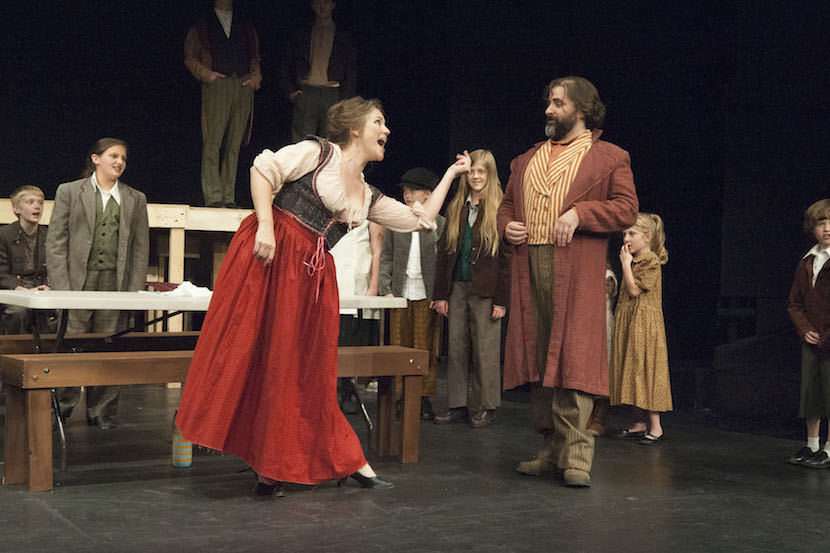 POCATELLO – Every year, Idaho State University's School of Performing Arts and the College of Arts and Letters showcase Southeast Idaho's talent in their Summer Theatre productions.
Each production features community members and ISU students and alumni in classic plays including "Honk! The Musical," "The King and I" and "Anything Goes."
This year, the Summer Theatre will perform "Oliver!" It will be performed on June 10, 11, 16, 17 and 18 at 7:30 p.m. in the Bistline Theatre in the Stephens Performing Arts Center.
"Summer theatre enables ISU to open its doors to the community, reconnect with alumni and continue educating students in the world-class Stephens Performing Arts Center," said Diana Livingston Friedley, music professor at ISU and director of "Oliver!"
"Oliver!" is based off of Charles Dickens' novel "Oliver Twist" and was written by Lionel Bart. Twist is an orphan in London navigating a world of theft and violence, searching for a home, a family and love. After being welcomed into a gang of child pickpockets led by Fagin, Oliver is falsely accused of a theft he didn't commit. He is rescued by a kind and wealthy gentleman, Mr. Brownlow, and is loved by the warm-hearted Nancy who is desperate to help Oliver. This musical features popular songs including "Food Glorious Food," "I'd Do Anything" and "As Long as He Needs Me" that audience members will recognize.
"The character Oliver moves everyone he meets, and audience members will identify with him," Livingston Friedley said. "The music from 'Oliver!' is timeless, and many will leave humming their favorite tunes."
Livingston Friedley will direct the play, with musical direction by Geoffrey Friedley. The production team features several other ISU faculty and students, and community members, including Lauralee Zimmerly, Shaun Nichols, Tara Young, Zach Jelke, and Johnie Rankin. The cast will feature more than 65 members of the Southeast Idaho community ranging in age from 6 to 80.
Tickets for "Oliver!" are $15 for adults, $10 for children, $14 for ISU faculty and staff and $7 for students with a valid ID. Tickets are available for purchase at the Stephens Performing Arts Center Box Office at 282-3595 or isu.edu/tickets, Vickers Western Wear and the Pond Students Union Building.
---
Categories: