Idaho State University psychology Professor Tera Letzring receives $406,358 NSF grant to study judgment of personality traits and emotions
May 20, 2016

POCATELLO – Idaho State University psychology Professor Tera Letzring recently received a $406,358 grant from the National Science Foundation to study whether making accurate judgments of emotions helps people make accurate judgments of trait.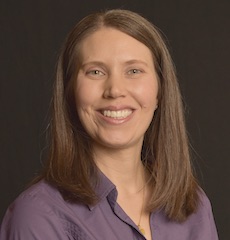 "I think this study is pertinent to everyone. We all make judgments about people all the time," Letzring said. "We do it automatically and don't think about it. Sometimes we are accurate and sometimes were not. If we can figure out what makes people more accurate in making judgments, and then get the information out to people it would be very helpful."
The project will test two hypotheses about the relationship and casual direction of people's accuracy in judging emotions and judging traits. The predictions for the three-year grant are that people who are able to make accurate judgments of emotions are also able to make more accurate judgments of traits, and making accurate judgments of emotions actually helps people to make more accurate judgments of traits.
Letzring and her team will conduct four studies over three years looking at observers' judgmental focus and manipulating the validity of affect and trait information. The project will also use an analytic model to analyze accuracy data developed by co-principal investigator Jeremy Bison, University of British Columbia. The multi-level, complex model will estimate accuracy scores, and allows psychologists to examine factors that may influence accuracy scores.
"One of the huge benefits to this program is that I can support a graduate student as a research assistant," Letzring said. "It helps them financially, and also with research experience that will help on the job market. It is helpful to a lot more people than just me."
The idea to work on this project came after Letzring attended a conference where her former graduate advisor was giving a presentation about accuracy and personality trait judgment. After the presentation, Letzring talked to a professor who mentioned that there was nothing said about emotions and how they affect our judgment. Letzring said no one had put emotion and personality trait judgment together before, and she wanted to see how knowing what someone is feeling could help people determine what they are like in general.
"A lot of important decisions that we make about other people are based on how we judge their personality," she said. "If we can find ways to help people increase their accuracy then they can make better decisions. If we do find that you have to judge emotions accurately to judge traits, then we will need to train people to judge emotions."
This is the first external grant that Letzring has received. She and co-principal investigator Judith Hall, Northeastern University, have been working on this grant for more than seven years, and submitted it four times before finally getting funded. Each previous time they submitted the grant, they got back the feedback that they should revise the proposal and submit it again. Biesanz joined Letzring and Hall as a co-principal investigator to help with analytic statistics during the last two submissions.
"Judith kept saying 'as long as they keep encouraging us we will submit it,'" Letzring said. "On our final attempt she said 'we're close, let's just do it one more time' and we finally got it."
---
Categories: