Idaho State University graduates its first nursing Ph.D. student, Tamara Rose
POCATELLO – It's not an overstatement to say Tamara Rose has worked hard these past three years.
She'd often spend seven days a week running the undergraduate nursing program at the Klamath Falls' campus of the Oregon Health and Science University and working full time on her nursing doctorate at Idaho State University.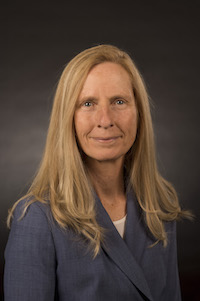 "I started the program with no grandchildren. Three years later I looked up and had six," she said with a laugh.
It's all paid off. The new grandmother and OHSU associate campus dean is one of nine ISU students who will receive nursing doctorates this spring. Rose will receive the Doctor of Philosophy degree and the others will receive doctorates in nursing practice or the D.N.P.
The inaugural cohort began in 2013 after the Idaho State Board of Education gave ISU the green light to offer the programs. ISU offers the state's only Ph.D. in nursing.
Rose says the doctorate is a credential that will enable her to continue doing what she loves most—teaching and research.
"My passion is my students. I am committed to educating and preparing bright, knowledgeable nurses for the future," said Rose, who has taught at OHSU for 19 years.
Rose's dissertation explores the professional values of baccalaureate nursing students and the role nursing educators can play in helping define and develop those values. She hopes her research can help improve nursing retention, job satisfaction and the quality of patient care.
Rose, who completed her studies online and via distance-learning education, is also a recipient of a Jonas Nurse Leaders Scholarship, which helped cover her ISU tuition. The national scholarship is awarded to students to stem the shortage of nursing faculty and to prepare future nurses for teaching and leadership roles.
---
Categories: