Idaho State University graduate Juan Martinez selected for Fulbright English Teaching Assistantship award
May 11, 2016

POCATELLO – American Falls native Juan Martinez, a recent graduate from the College of Arts and Letters at Idaho State University, was awarded a Fulbright English Teaching Assistantship in Mexico slated to begin in August.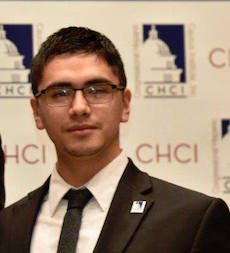 A spring 2015 political science graduate, Martinez will teach English to students and utilize his political and legal work experiences. While Martinez does not know exactly where he will be assigned yet, but his duties will last nine months.
During Martinez's freshman and sophomore year, he interned for Sen. Mike Crapo in Idaho and Sen. James Risch in Washington D.C., giving him a taste and introduction to what he wanted to do professionally.
After these internships, Martinez traveled to North Carolina to work for the Farmworker Unit, Legal Aid of North Carolina, a small public legal firm that represents agricultural workers for the state.
"I learned about the Fulbright program during my time in North Carolina and felt that it was an experience that fit with my interests and career path," Martinez said. "First-hand experiences, more so than studying, have been the blueprint to my college career and a Fulbright fellowship will truly be an eye opening one."
Martinez's internship experiences did not end here, however, as during the last semester of his senior year he worked with the Congressional Hispanic Caucus Institute. The program placed him in Congressman Jeff Denham's office and he continues to work there now.
According to Martinez, the application process for the Fulbright award was extremely demanding, but ISU helped him to accomplish the task. Specifically, through the help of Sharon Sieber, Fulbright program adviser and professor in the Department of Global Studies and Languages, he completed his application despite working full time graveyard shifts and balancing a full load of coursework.
"Sharon played an essential role in my application process," Martinez said. "ISU is more than blessed to have a professor so committed to her students."
The application process also included an interview by a panel of ISU professors. He was then notified by the Fulbright's national committee that his application had been selected as a finalist to be sent to the partner country's selection committee. Martinez was offered a Skype interview by the host country's selection committee and notified months later that he had been selected. The entire process lasted eight months.
"I am super excited and cannot wait to see what the Fulbright has in store," Martinez said. "I have many friends who have completed Fulbright programs and I know that it will be life changing."
The Fulbright Program is the flagship international educational exchange program sponsored by the U.S. government and is designed to increase mutual understanding between the people of the United States and the people of other countries. The primary source of funding for the Fulbright Program is an annual appropriation made by the U.S. Congress to the U.S. Department of State, Bureau of Educational and Cultural Affairs. Participating governments and host institutions, corporations and foundations in foreign countries and in the United States also provide direct and indirect support.
The Program operates in more than 155 countries worldwide. Since its establishment in 1946 under legislation introduced by the late U.S. Senator J. William Fulbright of Arkansas, the Fulbright Program has given approximately 300,000 students, scholars, teachers, artists, scientists and other professionals the opportunity to study, teach and conduct research, exchange ideas and contribute to finding solutions to shared international concerns.
Fulbright alumni have achieved distinction in government, science, the arts, business, philanthropy, education, and many other fields.
For further information about the Fulbright Program or the U.S. Department of State's Bureau of Educational and Cultural Affairs, please visit http://eca.state.gov/fulbright or contact Josue Barrera, telephone 202-632-6454 or e-mail ECA-Press@state.gov.
---
Categories: