Idaho State University Department of Theatre and Dance announces 2016-17 season
July 27, 2016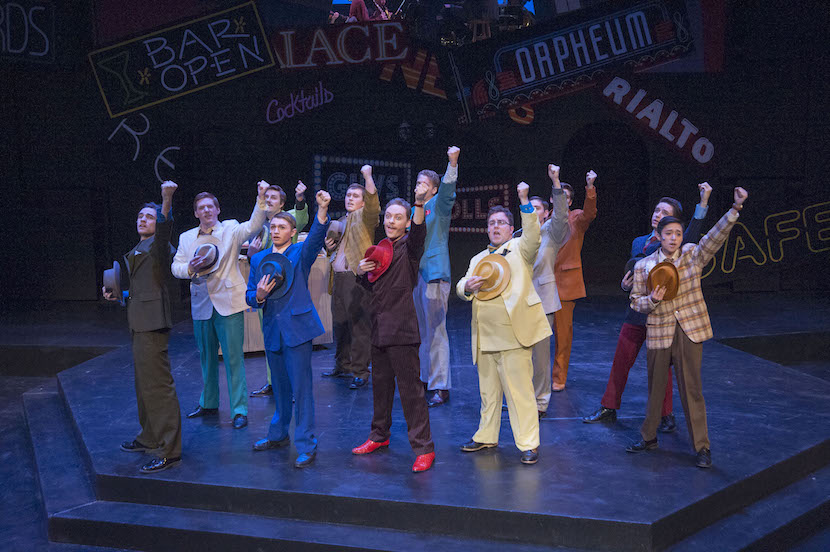 POCATELLO – From the classic productions of "Narnia" and "Much Ado About Nothing" to the powerful rock musical "Next to Normal," the Idaho State University Department of Theatre and Dance has put together a great array of performances for the 2016-2017 season.
"This promises to be one of our strongest and most diverse seasons in the past several decades," said Norm Schroder, department chair. "I am most excited about the tremendous talent in our student acting pool."
This season will also feature guest director Tony Clements for "Next to Normal," and guest scenic and lighting designers.
Season ticket vouchers are currently available. Vouchers are $50 each and are good for four adult tickets to any of the season's performances. Faculty, staff and seniors can purchase their vouchers for $45. Season ticket vouchers will save patrons up to $11 off of regular admission, and patrons may purchase as many vouchers as they would like. Contact Julie Hillebrant at 282-6452 to purchase your vouchers.
The season will include:
• "Next to Normal," music by Tom Kitt, book and lyrics by Brian Yorkey, in the Beverly B. Bistline Thrust Theatre, Sept. 23, 24 and 30 and Oct. 1.
Explore how one suburban household copes with the effects of crisis and mental illness. The play looks at how a mother's battle with manic depression affects the lives of her husband, son and daughter. "Next to Normal" explores dramatic material with an energetic pop/rock score while addressing grieving, ethics in psychiatry and suburban life. The play won three Tony Awards in 2009 including the "Best Musical Score." It was also chosen as "one of the year's ten best shows" by The Los Angeles Times, The Washington Post, Rolling Stone and The New York Times. "Next to Normal" also won the Pulitzer Prize for Drama in 2010, which was only the eighth musical to ever win this award. The musical will be directed by guest director Tony Clements, who is brought to ISU through a grant from the F.M., and Anne G., and Beverly B. Bistline Foundation.
• "The Turn of the Screw," adapted by Jeffrey Hatcher from the novel by Henry James, in the James E. and Beverly Rogers Black Box Theatre, Oct. 21, 22, 28 and 29.
This production is based on a provocative tale of suspense, horror and repressed sexuality as a young governess journeys to a lonely English manor to care for her two recently orphaned children. Her governess predecessor, Miss Jessel, drowned herself after becoming pregnant by the sadistic valet Peter Quint, who was also found dead under mysterious circumstances. Now the governess has begun to see the specters of Quint and Jessel haunting the children, and she must find a way to stop them. The New York Times called this production "a dazzling act of the imagination." Directed by Vanessa Ballam.
• "Narnia," based on the novel "The Lion, the Witch and the Wardrobe" by C.S. Lewis, in the Beverly B. Bistline Thrust Theatre, Dec. 2, 3, 9 and 10.
When four siblings are sent away from home during World War II, they are sent to be watched by old Professor Kirke, who owns a massive mansion. They stumble upon an enormous wardrobe that transports them into the world of Narnia. Narnia was once a peaceful realm of talking animals, giants and dwarves but is now under a cursed eternal winter imposed by the villainous White Witch. The four children, with help from the majestic lion Aslan, lead Narnia into war as they fight to outwit the Witch and restore peace to the land. Directed by Stefan Espinosa.
• "ISU Dance in Concert," in the Chick and Diane Bilyeu Theatre in Frazier Hall, Feb. 24 and 25 and March 2, 3 and 4.
This collaborative dance concert showcases choreography and performances from ISU dance faculty and current students. This year's concert will feature a blend of various types of dance ranging from ballet and modern to hip hop and jazz. The concert provides the opportunity to journey into the imagination of some of Pocatello's most creative choreographers and dancers, including new dance faculty member Aaron Wood. Choreographers include Wood, Sergiu Brindusa, Lauralee Zimmerly, Molly Jorgensen, Sheena Phelps and Lori Head, among others.
• "Much Ado About Nothing," by William Shakespeare, in the James E. and Beverly Rogers Black Box Theatre, April 14, 15, 20, 21 and 22.
Two love stories intertwine in one of Shakespeare's most beloved comedies. The first follows the formal, romantic relationship of Hero and Claudio. Claudio is deeply in love with Hero, and his commander, Don Pedro, helps Claudio propose marriage, but there is confusion over who the suitor is. The second love story features the celebrated battle of wits between Beatrice and Benedick, who both pretend not to be interested in the other. Their friends arrange for them to overhear conversations revealing how much they love each other. All of the comedy and romance is suddenly challenged by the evil plot of Don Pedro who seeks revenge on Claudio. Directed by Norm Schroder.
Cutline info: Students performing in ISU's performance of "Guys and Dolls" during the 2015-2016 season. Photo courtesy of Julie Hillebrant.
---
Categories: