Idaho State University debater Mike Chen finishes in tie for ninth place at National Debate Tournament
March 29, 2016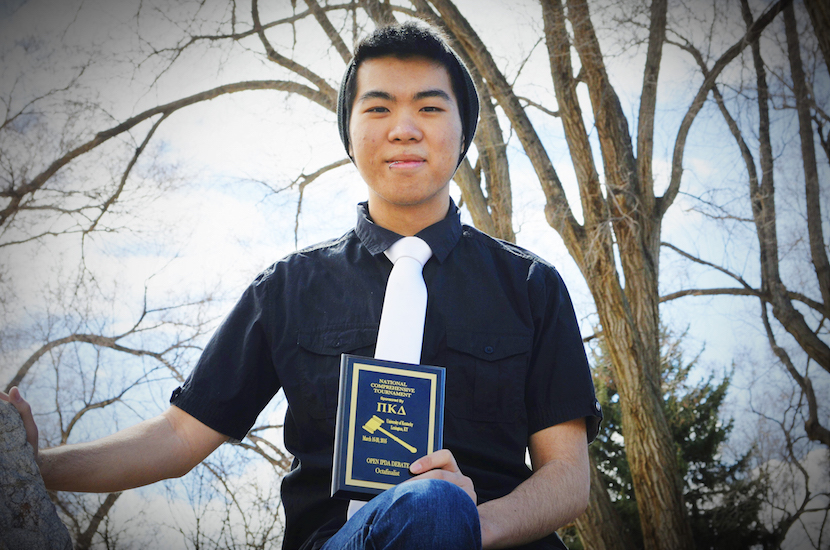 POCATELLO – Idaho State University junior Mike Chen tied for ninth place in the Varsity division of International Parliamentary Debate Association (IPDA) Debate hosted by the University of Kentucky.
While many ISU students were enjoying their spring break, Chen and other members of the ISU James M. and Sharon E. Rupp Debate Society were competing at the Pi Kappa Delta National Comprehensive Tournament in Lexington, Kentucky, March 15-22.
The Pi Kappa Delta National Comprehensive Tournament featured 87 schools with 1,956 individual events entries and 354 debate entries. There were nearly 1,000 individual participants.
Chen finished with a 4-2 winning record and finished as the 14th individual speaker and 10th seed. Ultimately, his showing means he tied for ninth place, according to Sarah Partlow Lefevre, ISU director of debate. IPDA is an individual debate format that features a different topic in each debate. For each round of debate, the competitors are presented with five topics. Each side is allowed to strike two of the five. The remaining topic is the subject for debate.
"I am grateful for the opportunity to not only compete at a nationals tournament for debate, but also place ninth and win a trophy," Chen said. "The competition was tough, and my competitors were fantastic debaters, not to mention that it was a four-day competition, so everybody was pretty tired by the time of the award ceremony. I am so impressed by my fellow debaters, and I am proud to represent both the debate team and Idaho State University as a competitor and a student."
The Rupp Debate Team has enjoyed its share of success. Last March, seniors Patrick Loftus and Brock Sondrup claimed ISU's first national championship at the Pi Kappa Delta National Championship in British Parliamentary debate at Ohio University in Athens, Ohio. ISU debaters Jessica Yeats and Izak Dunn placed third at the 2007 Cross Examination Debate Association (CEDA) National Tournament. In 2008, Jessica Yeats placed second in individual speaking at both the National Debate Tournament (NDT) and CEDA Nationals.
At this year's PKD National Comprehensive Tournament, Ethan Likness and Cora Bidet also represented ISU in IPDA. Michael Mares, Erik Ekstrom, Sydnee Harris, and Jonah Ruhter represented ISU in British Parliamentary debate. The ISU students are members of the PKD honor society, which was founded in 1911 and has more than 200 active chapters nationwide.
"Speech and debate is vital for the development of oral and written communication skills—the very skills that employers consistently tell us they are looking for," said David Bailey, president of PKD. "Even more importantly, it fosters research, independent and critical thinking, and leadership—all qualities necessary for a more informed citizenship. In short, there are few educational activities that are as important as speech and debate."
In addition to developing their debate skills, the team had a great time.
"Aside from the debate tournament, I also had a lot of fun on the trip too. We saw a lot of amazing sights, we took plenty of pictures, and we ate food to die for," Chen said. "My favorite part of the whole trip was our downtown stroll in Kentucky during which we saw a giant, psychedelic mural of Abraham Lincoln. Most of all, I enjoyed spending time with the debate team."
Partlow Lefevre also commented on the success of the trip.
"I'm so pleased that all of our debaters were strong team players," Partlow Lefevre said. "They focused on the process – not the product. That way, everyone learned a lot. As our most experienced debater, Mike made us all proud by placing in the top of his field."
The James M. and Sharon E. Rupp Debate Society, an AISU student organization, is sponsored by KISU and in housed in the Department of Communication, Media, and Persuasion in the ISU College of Arts and Letters.
To learn more about the Rupp Debate Team, visit its blog at http://idahostatedebate.blogspot.com/ or find the team on facebook at http://tinyurl.com/ruppdebate.
ISU students who have questions about the team, or are interested in joining, should contact Partlow Lefevre at partsara@isu.edu.
---
Categories: