Idaho State University College of Arts and Letters Liberal Arts High program showing success in first semester
May 19, 2016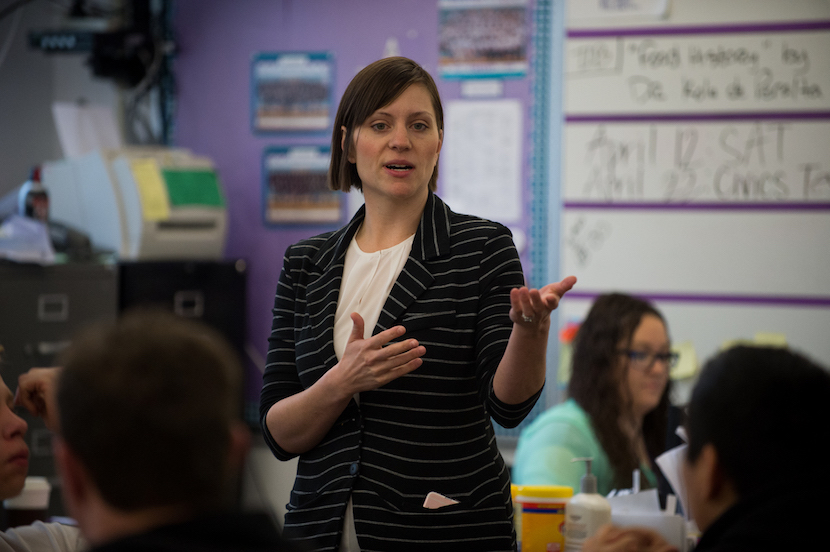 POCATELLO – Idaho State University's College of Arts and Letters began sending professors to high school classrooms for the Liberal Arts High program in early 2016.
To date, more than 800 students in Southeast Idaho have been acquainted with professors from ISU through the program.
"The College of Arts and Letters is thrilled to have opportunities to reach out to high school students and show them the opportunities that they can have at ISU," said Dean Kandi Turley-Ames.
Professors have given presentations in Century, Pocatello, Rigby, American Falls, Marsh Valley and Jerome high schools. Some topics of their presentations include food history, what to expect in a journalism classroom, personal psychology, Islam 101 and inside the artists' studio.
"I love that Liberal Arts High exposes students to new ideas," said Tera Letzring, ISU psychology professor who has visited classrooms as part of the program. "It helps students who are interested in college see what a faculty member is like, and give them an idea of what to expect in college. The program can also spark an idea in students who are not interested in college."
The program was created by Jennifer Attebery, Department of English chair, after being inspired by a professor as a high school student. The goal of the program is to help high school students see that college is a viable option, and that there are opportunities in their own backyards.
Liberal Arts High will be available during the next academic year as well. Teachers are encouraged to schedule professors now to help them in their future lesson plans.
For more information on Liberal Arts High, contact Melissa Lee at 282-1404 or bohnmeli@isu.edu. More information is also available at isu.edu/cal/liberal-arts-high.
Photo info: Idaho State University history professor Katy Kole de Peralta visits students at Century High School and gives a presentation on history and food.
---
Categories: