Idaho State University adds more beauty to campus
June 23, 2016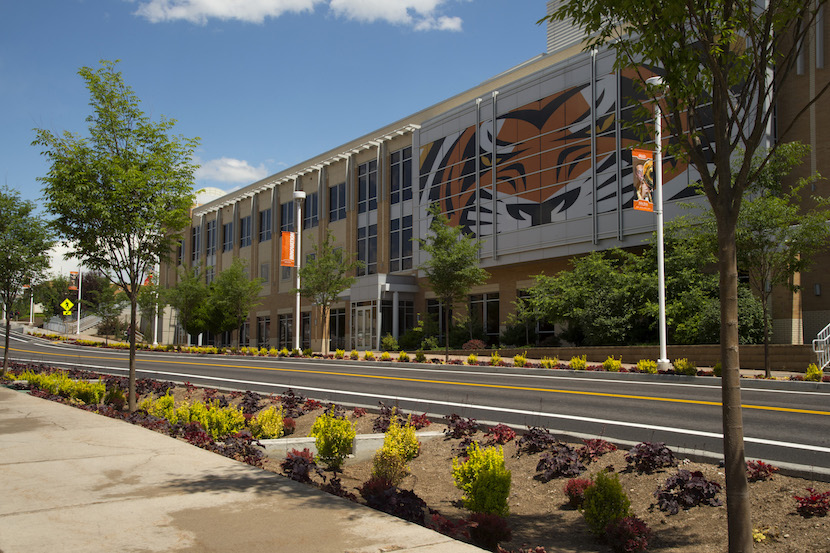 POCATELLO— Idaho State University landscapers have planted hundreds of new trees and thousands of plants on campus to create a more welcoming feel. Other new changes include creating a tiered planter area and another new berm.
Chris Wagner, superintendent of landscaping at ISU, and his team of 12 have been working on beautifying the ISU campus by integrating more landscaping into old or plain areas. There are also around 35 temporary and student employees, many who work part time.
"Without this hard-working, dedicated team it couldn't all get done," Wagner said.
A lot of the effort this summer, much of it funded through gifts from the Jack and Mary Lois Wheatley family, is happening along Martin King Luther Jr. Way, a main arterial on campus. Last year, the City of Pocatello provided ISU with a federal grant to narrow Martin Luther King Way, making it safer for students crossing it on a regular basis, and now that street is receiving additional beautification improvements.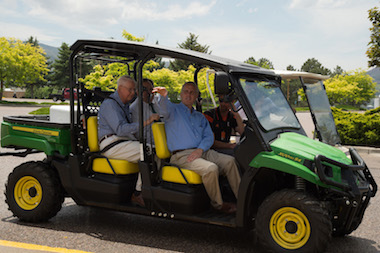 "The idea is if the road is narrow it slows traffic down," Wagner said. "The landscape areas between sidewalks and road provide an avenue for students to cross at designated locations."
The landscaping crew has added more seating areas and planted scores more trees along Martin Luther King Jr. Way. At the College of Technology Trade and Technology Building bordering Martin Luther King Jr. Way, a contractor has completed the demolition of stairs and with construct a tiered planter and then Wagner's team will do the planting. In front of the Energy Systems Technology and Education Center Building, across the street from Cadet Field on Martin Luther King Jr. Way, another berm will be added similar to the one that is in front of Reed Gym.
The hillside south of Cadet Field is also undergoing changes. The landscaping crew has removed diseased spruce trees and will put a hedge by the sidewalk to hide the parking lot from the field. In addition, four new spruce trees, 50 burning bushes and fresh mulch will be added to beautify the grounds.
Another project on the Pocatello campus includes replacing the Siberian Elm trees along Fifth Avenue with maple trees. The Siberian Elms will be phased out in five to seven years, Wagner said.
"The Wheatley family has made a huge difference to the campus landscape due to their generous donations for the past five plus years," Wagner said. "We will continue to beautify the campus mostly with the help of the Wheatley family."
Jack Wheatley and his late wife Mary Lois, have donated more than $1.7 million to ISU. Jack, who grew up in Marsh Valley and was a student at ISU, is a former northern California real estate developer who received an honorary Doctor of Engineering degree from ISU in 2014. The Wheatley family has donated generously to scholarships and landscaping projects at ISU.
"The primary reason we support scholarships and the beautification effort at ISU is the multiplying effect we realize from our investment in the future of young people," said Charles Wheatley, Jack Wheatley's son, and one of six children. "We hope that by providing some financial support for students that it allows and inspires them to reach further and better prepare themselves to be valuable members of society.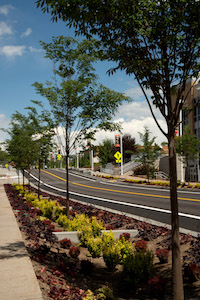 "We also expect that more beautiful surroundings on the campus will motivate students to value their education and reach for excellence in all that they do," Charles added. "Jack's roots in southeastern Idaho make it a joy to come back home and try to make a difference. We also feel that our donations toward landscaping improvements are efficiently spent and then maintained by the ISU staff and by the many students they can employ in fulfilling these projects."
Most Martin Luther King Jr. Way landscaping and plantings are scheduled to be completed by the end of June. The Trade and Technology Building tiered planters and the berm in front of the ESTEC Building are scheduled to be completed by the time fall semester starts in August.
"It's great to be involved in these projects," Wagner said. "When you get done, you have something beautiful to look for that will be around for a long time for a worldwide community to enjoy."
Cutline information:
On a recent visit members of the Wheatley family were given a tour of some of the new landscaping projects on the ISU campus. Pictured are Charles Wheatley, front right with Chris Wagner, superintendent of landscaping at ISU; and Jack Wheatley, back left, with Kent Tingey, ISU vice president for advancement.
Photos by Eric Gordon, University Photographer.
---
Categories: