I Chose ISU, Tony Lemos, physics
March 22, 2016
Samantha Chaffin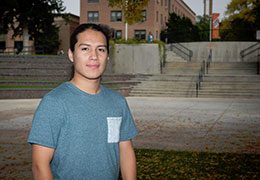 POCATELLO – During his senior year in high school, Tony Lemos had the opportunity to tour the NASA Ames Research Center in California and meet face-to-face with astronauts through his involvement with the Idaho Science and Aerospace Scholars group
"I've always had an interest in science, and in physics, but I wasn't entirely sure about the space stuff until I did that program," Lemos said. "But we were there and it was amazing to see and I knew I wanted to be a part of that. Just the way that physics applies and how it's incorporated so they can find out more about space, I find it all very interesting."
A freshman and first-generation college student, Lemos is already making plans and looking ahead to his future. He cited the internship opportunities that will not only make him a competitive applicant for graduate schools, but will provide him with the skills, knowledge, and experience he needs to succeed in his future career as a researcher at a large company or agency-ideally, NASA-as the icing on the cake that cemented his choice to attend ISU.
After three years participating in Idaho State University's TRiO Upward Bound program, Lemos, originally from nearby Aberdeen, already had a foot in the door at ISU when selecting his university.
"I kind of had already been to school at ISU for the summer and so it just made it a bit easier, and I'm transitioning well here," said Lemos.
The overwhelming support Lemos received from ISU and its faculty and staff was another key factor in his decision to attend.
"It's a small, great atmosphere here at ISU," said Lemos. "It's not too crazy, and students and teachers here communicate well and I like that. It creates an environment for success and I like that."
Lemos was recently selected as one of two annual recipients of the prestigious Pearl Hill Memorial Scholarship, awarded to current or former Upward Bound students who have demonstrated outstanding leadership, civic engagement, and commitment to higher education. Lemos, who graduated as high school valedictorian with a 4.073 weighted GPA, also participated in football and band, served as student body president, helped mentor and coach the seventh-grade football team and frequently donated his time to help the homeless by working in the food pantry in addition to tutoring students who struggled in math.
"The Pearl Hill scholarship is a huge honor to receive," said Lemos. "I'm the first person to get it from ISU because of all the hard work I've put into it and hopefully my hard work carries forward to ISU and I'll be as successful here as I was in high school."
Lemos added, "Just continuing doing well in school, that's what I want to do."
---
Categories: