From France to Russia to becoming an Outstanding Masters Student, Amanda Poitevin went around the world then to ISU to earn degree
May 2, 2016

POCATELLO – Idaho Falls native Amanda Poitevin has been around the world. From attending a small liberal arts college in Wellesley, Mass., to studying abroad in Paris, to teaching English in Russia, some might say that she has seen or done it all.
But Poitevin had one more thing on her list, receiving a master's degree in historical resources management from Idaho State University.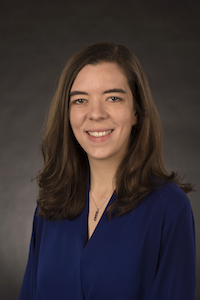 Poitevin is finishing up her last semester of graduate school and was named ISU's Outstanding Master's Student of the Year.
"It is really exciting to receive this award, I wasn't expecting to receive it," she said. "It has been a surprise to me. It is nice to receive recognition for all of the hard work I have done over the years, that is the biggest thing for me."
Among Poitevin's list of accomplishments is teaching at a private high school, playing cello in the Idaho Falls Symphony, serving as a court-appointed special advocate for children in foster care, completing an internship at Grand Teton National Park and graduating with a double major in history and French at Wellesley College in Massachusetts.
Poitevin has spent time in Paris and Russian, studying the languages and history. She became interested in France at a young age and started taking the language classes in high school. After taking a Russian literature class at Wellesley College, she developed an interest in the Russian frontier and wanted to study the correlation between the Russian and American frontier. To do this, she knew she had to know some Russian and enrolled in courses immediately.
After graduating with her bachelor's degree, Poitevin started teaching humanities classes at a private school in Hailey. After getting a few years under her belt, she decided to go to ISU to receive her teaching certificate from the College of Education. After receiving her certificate, Poitevin decided to begin taking master's courses in history, something that had always been a dream of hers as she had always been in love with history.
"I had some great teachers in history that brought everything to life for me," Poitevin said. "Jim Francis at Idaho Falls High School was very inspirational to me. He inspired me to see myself as a historian and really solidified my interest in history."
The history master's program at ISU focuses more on applied history. The program allows students to take traditional history classes but also classes to teaches them the skills necessary to become a historian. Poitevin sees herself using these skills as a history teacher someday.
Poitevin has no immediate plans for after graduation, but she hopes to find a job in a high school or middle school teaching history, French or math. If that doesn't work out, Poitevin is also open to other fields that align with her degrees.
---
Categories: