Five Idaho State University faculty to receive 2016 Outstanding Public Service Awards
April 1, 2016

POCATELLO—Five Idaho State University faculty members have been chosen to receive 2016 Outstanding Public Service awards. They will be honored at a reception held at Juniper Hills Country Club April 6 at 6 p.m.
One of the recipients will also receive a Distinguished Service Award. The faculty members receiving these awards are as follows: David Hachey, director of pharmacy clinical services and professor; Kim Jardine-Dickerson, clinical assistant professor, interim associate director of undergraduate, senator at large for Idaho Falls; Joshua Pak, professor of chemistry; James DiSanza, chair and professor of communication, media and persuasion; and Gene Scalarone, professor of biological sciences.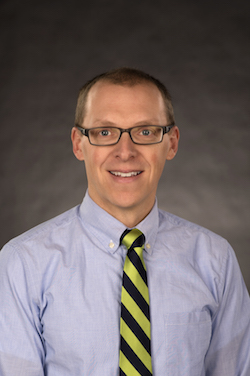 David Hachey moved to Pocatello in 1998 after completing his Doctor of Pharmacy from the University of Rhode Island. During his two-year residency with the Department of Family Medicine at ISU, an opportunity arose to work with patients infected with human immunodeficiency virus. Hachey took full advantage of serving this patient population, establishing an interdisciplinary medical team.
His service and dedication to individuals with living HIV has been recognized locally, regionally and nationally. He has received several acknowledgements for his efforts from non-profit groups within the Pocatello and Idaho Falls communities, served as a board member on the Idaho Department of Health and Welfare's HIV Pre-Exposure Prophylaxis Strategic Working Group and partnered with medical providers from Boise to help deliver HIV services to patients in Twin Falls.
Hachey's service has created partnerships with the University of Washington School of Medicine's tele-health program, Project ECHO, where he collaborates with an interdisciplinary medical team on a weekly basis providing clinical support to HIV providers from across the Northwest. His work has also carried him across the globe to the University of Cape Town School of Medicine in South Africa where he was able to build academic and clinical networks.
Throughout his extended history of service, he has been able to secure more than $2 million in funding through HIV service grants and contracts to ensure that patients living with HIV in Eastern Idaho continue to have access to high quality HIV care. In addition to coordinating care for nearly 150 patients living with HIV, he has grown his clinical service to partner with Health West Incorporated, to ensure patients with hepatitis C also have access to affordable health care and services.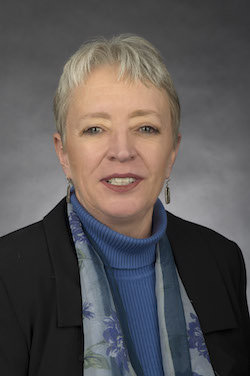 Kim Jardine-Dickerson is an assistant clinical professor at ISU School of Nursing. She has been teaching at the school of nursing for 12 years, and has a master's degree in nursing education. She is a board-certified psychiatric mental health nurse and a certified alcohol and drug counselor. Jardine-Dickerson is currently interim undergraduate director in the school of nursing.
Jardine-Dickerson teaches psychiatric mental health nursing and community nursing. She loves being a nurse educator and a community advocate. She is on the executive committee for ISU Division of Health Sciences. Jardine-Dickerson has been an ISU faculty senator representing Idaho Falls.
Jardine-Dickerson was instrumental in starting Idaho Crisis Intervention Team (CIT) a model of advocacy, training and education for law enforcement and other community stakeholders. She works with CIT training in Pocatello. Jardine-Dickerson has been on the Idaho State Behavioral Health Planning Council appointed be the governor and a regional Behavioral Health Board. She is passionate about behavior health and substance abuse issues in the community.
She has been the past National Alliance on Mental Illness (NAMI) board president. She is a member of the American Psychiatric Nurses Association (APNA), Sigma Theta Tau International (STTI) and the International Nursing Association for Clinical Simulation and Learning (INACSL).
Born and raised in Idaho, Jardine-Dickerson and her husband Mike live in Idaho Falls. The couple loves camping, kayaking and going to ISU football games.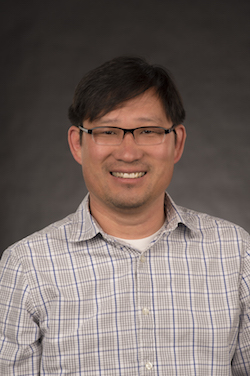 Joshua Pak is a professor of chemistry, whose career at ISU began in 2001. As a scientist and educator, Pak is passionate about creating opportunities for students who are traditionally underrepresented in science and engineering.
At ISU, Pak and colleagues obtained two grants from the National Science Foundation totaling more than $1.2 million, which provide scholarships to talented low income chemistry and biochemistry students. This program awards 10 to 15 ISU chemistry students with scholarships up to $10,000 per year to concentrate on their studies by lowering their financial burdens. In addition, the program creates safe and supportive environment and community for all students in the chemistry department to flourish in their studies.
Beyond the classrooms, Pak has been trying to improve science literacy in the community and lower barriers for young students to pursue careers in the fields of science, technology, engineering, and mathematics (STEM). For example, in 2005, Pak initiated Project SEED Program at ISU for local high school students to gain real-world research experiences in chemistry while getting paid, which was the only program in Idaho at that time.
Over the last year, there have been more than 50 high schools students who gained valuable research experiences. Pak also helped to initiate new Project SEED programs at Boise and Brookings, South Dakota working with local coordinators. Nationally, he served as a member and a chair of the American Chemical Society's Committee on Project SEED for 10 years, overseeing a nearly $2 million annual budget and approximately 1,000 participants and research mentors across the country.
Pak has been active in outreach and recruiting activities, visiting local K-12 classrooms, offering demonstrations and lectures with the ISU Chemistry Club. Pak strives to create a sustainable science outreach activities by collaborating college students, colleagues, community members, government agencies and schoolteachers. In 2015, for his services and leadership to the profession and society, Pak was inducted as a Fellow of the American Chemical Society.
James DiSanza has worked with faculty at other universities in the state to revise general education policy and transfer guidelines across all of Idaho's higher education institutions. These policies create a seamless transfer process for general education credits that will improve student retention and graduation rates.
DiSanza is the co-founder (with Dr. Nancy Legge) of "Relevant Rhetoric: A New Journal of Rhetorical Studies," a refereed journal that prints persuasion research that is accessible to educated lay-audiences.
DiSanza volunteers as the USA Hockey coach-in-chief for Idaho, where he oversees or teaches 10-15 hockey coaching clinics a year, serving more than 120 coaches. The emphasis of those clinics is on fun and skill development. Those coaches work with more than 1,000 youth hockey players in Idaho each year.
His most significant service achievement is his role in the funding and construction of the outdoor refrigerated ice rink in Chubbuck's Capell Park. DiSanza wrote successful grant applications to the Charlotte Martin Foundation and the Portneuf Health Trust, among others, to fund the purchase of 11 miles of 1-inch floor pipe, a Zamboni ice resurfacing machine and used compressor and condensers for the refrigeration system.
With help from the City of Chubbuck, DiSanza and a small team of volunteers from the Chubbuck Pocatello Hockey Association worked hundreds of hours to lay the pipe in floor, hook it up to the compressor and cover it with a thin layer of topsoil. The rink opened for a successful eight week season in December 2015 and several hundred people visited for hockey and public skating.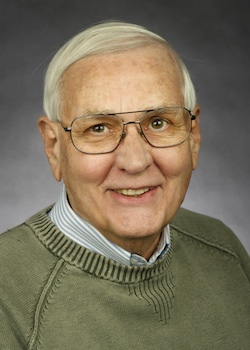 Gene Scalarone is a professor of microbiology in the Department of Biological Sciences at ISU. He completed his Ph.D. degree in Immunology from UC Berkeley in 1970 and spent 10 additional years there as a research microbiologist before joining ISU in 1980.
Scalarone has participated in sustained service activities at the national, regional and local levels, including committee service to ISU and the Department of Biological Sciences. He is currently serving on the College of Science and Engineering Executive Committee.
He has served in many positions with the American Society for Microbiology, the Medical Mycological Society of the Americas and also as a trustee with the Idaho Academy of Science. In addition he has served as a research grant reviewer for international and national organizations plus a reviewer for books and journals.
Scalarone has been a member of the Animal Care and Use Committee since 1980 and served as chair for 12 years. While he was chair he was instrumental in receiving an NIH grant for the Improvement of the ISU Animal Facility and also for obtaining national accreditation from the American Association of Laboratory Animal Care.
Scalarone's contributions have also involved many students. His influence led to establishing the ISU Microbiology Club (a student organization of the American Society for Microbiology) and he has served as their advisor since 1987. He donated his lecture notes to the club to assist their fund raising by selling notes to students. This has resulted in members being able to attend national and regional scientific meetings, going on field trips to various laboratories and inviting prominent scientists to present seminars at ISU.
---
Categories: