Áine Ni Shuilleabhain to teach basic Irish language classes at ISU through Fulbright program
June 15, 2016

POCATELLO— Áine Ni Shuilleabhain, from County Kerry in Southwest Ireland, has been matched with Idaho State University through the Fulbright Foreign Language Teaching Assistant Program and will begin her teaching this fall.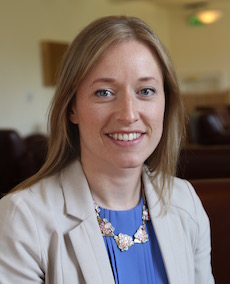 Shuilleabhain has graduated with a bachelor's degree in international English and French, a diploma in Irish and a master's in advanced language skills in French, Irish and English.
She spent a year studying in south France and a year as an English language assistant to secondary school students.
"ISU is a large university with a diversity of students and academic choices and I'm really excited to be involved and working there," Shuilleabhain said. "I really hope that I can support students who are interested in Irish language and studies and assist with developing the Irish community of ISU."
"One point which was made repeatedly was how nice the people there are, and no matter where you are in the world, this is what puts a stranger to a new place at ease," Shuilleabhain said. "It looks like a beautiful region and I like being active and outdoors so I'm really looking forward to exploring the countryside."
She has taught Irish language in secondary schools, and has also taught both secondary and college students in the Kerry Gaeltacht. In addition, Shuilleabhain has been an Irish translator and translation project manager. She is currently in Dublin working as a manager in a language services company. Her job includes translation, interpretation and language testing in various languages.
Shuilleabhain will teach basic language skills with the goal of developing students' overall conversational skills. Classes will also try to incorporate elements of Irish life and culture into lessons.
"ISU's link with County Kerry offers students an invaluable opportunity to travel to Ireland in the summer of 2017 for an immersion course in the Kerry Gaeltacht," Shuilleabhain said. "This is a gateway for students to the Irish language and also to an Irish-speaking community with an immense richness of history and culture. I will guide students over the year with the aim of equipping them with the necessary skills to participate in such a course."
"Táim ag súil go mór le bualadh le muintir ISU and Pocatello," Shuilleabhain said. Which translates to "I'm really looking forward to meeting the people of ISU and Pocatello."
---
Categories: