ISU's October Career Path Intern of the Month is senior Alan Carlson
By Scarlett Smith | October 7, 2016
POCATELLO – Idaho State University senior Alan Carlson was named the Career Path Intern (CPI) for the month of October by the ISU Career Center.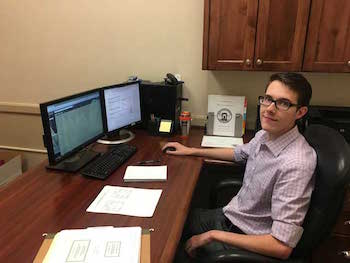 Carlson, a senior double majoring in finance and management, has been working as a CPI in the finance and administration department for the past seven months. One of his finest accomplishments has been creating a digitized record of all the property that ISU owns. Because this project had never been undertaken before, Carlson had to work closely with the Bannock County assessor to ensure all properties were accurately represented.
Thomas Meyers, assistant controller and Carlson's supervisor, said he has been thrilled to have such an excellent student intern.
"Alan has proven himself to be a self-starter who can work independently. We are fortunate to have someone who is very organized and detailed oriented," Meyers said.
Carlson, originally from Boise, will graduate in May. Upon graduating he hopes to begin work on a master's degree in finance.