ISU's November Career Path Intern of the Month is Daniel Ortiz
November 8, 2016
Scarlett Smith
POCATELLO – Idaho State University's Daniel Ortiz was named the Career Path Intern (CPI) for the month of November by the ISU Career Center.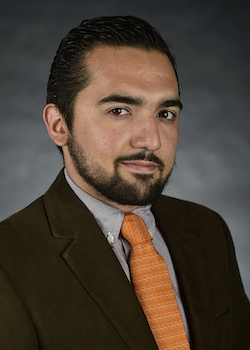 "Working in the marketing office has been so great," Ortiz said. "I really get to experience what it's like to work in a successful American business atmosphere."
Ortiz, who has been an intern for the past year and a half, helps manage ISU's social media content. He has assisted the Office of Marketing and Communications in countless social media campaigns including back-to-school, homecoming, giveaways, athletics and commencement efforts. Ortiz is constantly coming up with new ideas for social media and takes beautiful photographs of ISU's campus and community.
"Our office is thankful every single day for Daniel's positive attitude, attention to detail and hard work," said Ginny Lawrimore, digital media coordinator for ISU's Marketing and Communications team. "He has a keen eye for creative expression and is a Bengal through and through – a perfect combo for creating amazing ISU content."
Ortiz who is from Juárez, Mexico, is a double major in business management and finance and hopes to one day own his own business.
"Business and finances have always interested me. I'm always reading about those subjects trying to understand how it will affect my day-to-day life," Ortiz said.
Ortiz first heard about ISU when he was on another exchange program in Iceland studying at Reykjavik University. He studied in Iceland for one semester before talking to the ISU International Office about coming to America.
"I love ISU not only because it gave me the opportunity to continue my education, but it also allowed me to meet wonderful people," Ortiz said.
"Daniel is always proactive with assignments and jumps at opportunities to improve ISU's outreach opportunities," said Stuart Summers, associate vice president of marketing and communications. "His upbeat attitude is contagious, and the efforts he's led on social media, specifically Snapchat and Facebook Live, are a huge boost to ISU. We are very fortunate to have him as a part of our team."
For more information about the CPI program, visit http://www2.isu.edu/career/.
---
Categories: