ISU LEAD Center holds variety of events for New Student Orientation
August 19, 2016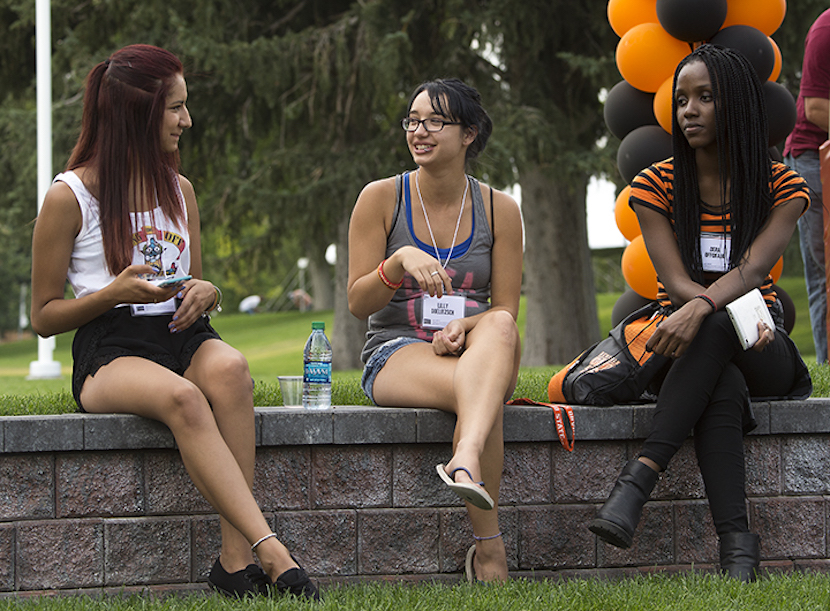 POCATELLO – A presentation by Pocatello Police Chief Scott Marchand was among the highlights of a variety of events held and planned this week at Idaho State University as part of the New Student Orientation program.
After holding orientation events at ISU satellite campuses in Twin Falls, Meridian and Idaho Falls earlier this month, the ISU LEAD Center has led New Student Orientation efforts this week on the Pocatello campus beginning with a welcome dinner on Monday, Aug. 15, and continuing with a variety of events that will culminate in the finale, the New Student March through the Arch celebration Sunday, Aug. 21.
"New Student Orientation at ISU is focused on providing all new Bengals, domestic and international, with the connections and ongoing support systems needed for a successful academic and social transition into the university," said Brooke Barber, director of the ISU LEAD Center. "Through orientation small groups, social events, local service projects and campus traditions, we encourage new student affinity for the university and the City of Pocatello. Through departmental gatherings, we encourage lasting academic support connections between new students and faculty members."
Chief Marchand spoke to new students and families about life in Pocatello during the Welcome Ceremony on Thursday, Aug. 18, at 2:15 p.m.
"Chief Marchand welcomed our newest Bengals to the City of Pocatello, and affirmed the dedication of his staff to the safety and well-being of ISU's students."
Other activities held included a special welcome for veterans and nontraditional students on Monday, Aug. 15. On Thursday, special welcome events were held for international and honors students, a resource fair was held on Cadet Field, followed by a welcome address and parent orientations in Reed Gym. In addition, orientation small groups with Orientation Leaders (returning ISU students) were held. In the evening a family dinner and ice cream social were held.
On Friday, Aug. 19, students checked and had lunch with faculty in their colleges. Academic, meet-the-faculty and diversity education sessions were held. This was followed by a fair, dinner and concert on Cadet Field in the evening.
Events planned for Saturday, Aug. 20, include service project options in the morning of helping Aid for Friends or Zoo Idaho. From 2 to 4 p.m. a giant slip-n-slip will be set up on Bartz Field. A party in the Pond Student Union is planned from 6 to 9 p.m. and a movie on the Hutchinson Quadrangle from 9 to 11 p.m.
On Sunday, Aug. 21, there is an ISU Women's Soccer new student tailgate party at the Pond Student Union parking lot, followed by a soccer game beginning at 1 p.m. in Davis Field. At 2 p.m., new students will enjoy an annual tradition of walking up Red Hill for the New Student Photo at the Pillars. At 5 p.m., participants can meet at Reed Gymnasium to participate in New Student March through the Arch, traveling down Martin Luther King, Jr. to the Hutchinson Quadrangle and through the Swanson Arch, and then be treated to a celebration dinner.
---
Categories: