ISU College of Education faculty lead coding and robotics workshop for elementary teachers
October 21, 2016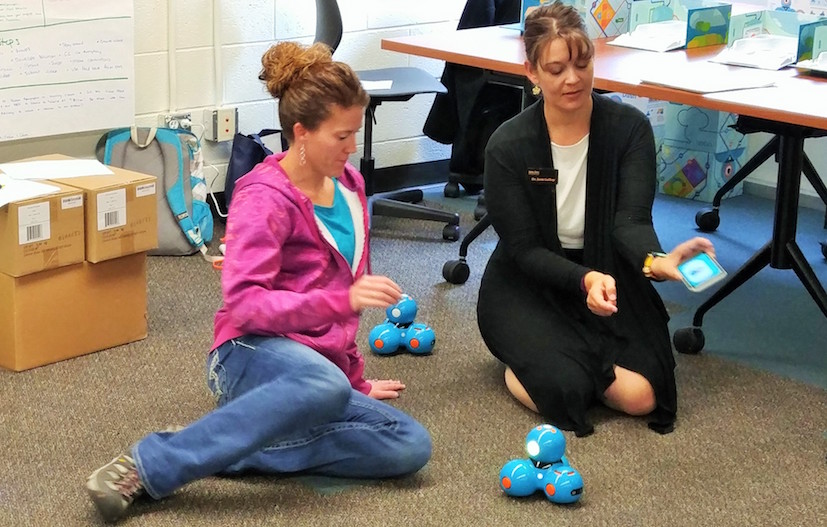 POCATELLO – Idaho State University faculty from the College of Education recently led a coding and robotics workshop for elementary teachers in Idaho Falls School District 91.
At the workshop, Cory Bennett, Jennifer Gallup and Beverly Ray, all professors from the Department of Teaching and Learning, introduced and assisted teachers to learn about the importance of coding and how coding and robotics can be implemented into the elementary curriculum.
"Our goals were to help them understand why teaching coding is important, and can even be considered a new 'basic skill' in school, as well as help them understand that they do not have to be an expert to begin these explorations, " Bennett said.
Workshop participants had the opportunity to explore and play with innovative tools, such as Dash and Ozobot robots and consider how these robots assist STEM learning for all elementary students.
"Helping teachers learn how to integrate coding, robotics and other STEM learning into their teaching is critical to assuring a positive future for Idaho's children," Ray said.
During the workshop teachers further developed their coding skills using computer software, including free tutorials available at code.org.
"Sites such as this help today's learners develop their computational thinking," Bennett said. "Better prepared them for our ever increasing technical society."
For more information about the coding workshops, contact Bennett at benncor3@isu.edu or Ray at raybeve@isu.edu.
---
Categories: