ISU biological sciences department welcomes Minshall guest lecturer Jack Stanford to give talk 'What Makes a Great Salmon River?'
October 21, 2016

POCATELLO – "What Makes a Great Salmon River" presented by noted ecologist Jack Stanford is the topic of the annual Idaho State University G.W. Minshall Lecture Series in Ecology at 4 p.m. Oct. 27 in Room 10 of the ISU Lecture Center (Building No. 67 on ISU maps).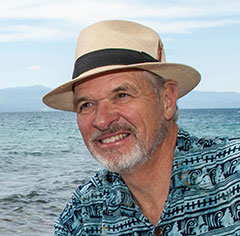 Stanford is professor emeritus of ecology at the Flathead Lake Biological Station of the University of Montana, where he has worked since 1972. He was the director of the station from 1980 to 2016. Stanford has graduated 19 doctoral and 28 master of science students and he has published more than 220 scientific papers.
He is most noted for his long-term studies in the 11,000-square-mile Flathead River-Lake Ecosystem in Montana and British Columbia that demonstrated the 4-dimensional nature of rivers, ecological connectivity of aquatic systems, and food web cascades caused by introduction of nonnative species.
In 1999, Stanford began extensive work on a suite of observatory salmon rivers in Kamchatka, Argentina, Washington, Oregon, Alaska and British Columbia; the research focuses on cross-site comparisons of the salmon and steelhead life histories and productivity and effects of salmon-derived nutrient subsidies on floodplain ecology.
Stanford has served on many national and international science review panels, including several NRC reviews and in 2014 he was a member of the EPA review panel on Connectivity of Streams and Wetlands to Downstream Waters, pertaining to the definition of jurisdictional waters per the Clean Water Act. He was elected a Fellow of the American Association for Advancement of Science in 2000. In 2004, Stanford received the Award of Excellence of the Society for Freshwater Science and in 2011 he received the Lifetime Achievement Award from the International Society for River Science.
Stanford's presentation is sponsored by the ISU Department of Biological Sciences, which established the G.W. Minshall Lecture Series in Ecology to provide lasting recognition of the scientific contributions of Wayne Minshall, an ISU professor emeritus who has been an international leader in the study of streams and rivers.
The lecture is open to the public.
---
Categories: