Idaho State University Women's Club Holiday Fair set for Nov. 4-5 at Pond Student Union Ballroom
October 10, 2016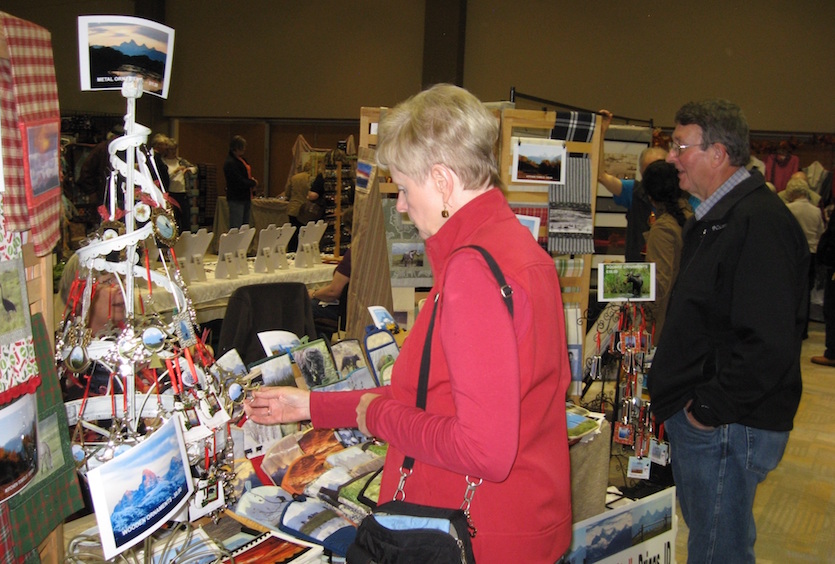 POCATELLO – The 46th annual Idaho State University Women's Club Holiday Fair will be held Nov. 4 from 10 a.m. to 6 p.m. and Nov. 5 from 10 a.m. to 4 p.m. in the ISU Pond Student Union Ballroom.
Free parking will be available at the Pond Student Union parking lot and there is no admission fee. All proceeds will go toward student scholarships. This event is hosted by the ISU Women's Club, the oldest organization on campus established in 1923.
This year, the Holiday Fair will have 38 artisan vendors to help make your holiday shopping easier by offering a wide array of unique handcrafted items.
Items supplied by community vendors will include pottery, jewelry, lotions, handmade crafts, artwork, photography and accessories.
This year, purses and southwestern jewelry will also be available for the first time. Another special attraction this year is a selection of vintage dolls provided by a supporter of the ISU Women's Club.
There will also be booths from the Women's Club featuring Heartfelt Creations (handicrafts and homemade baked goods by club members, faculty and staff, and friends) and a raffle that includes a variety of gift-baskets and other prizes.
All community vendors will donate 20 percent of their profits to student scholarships, while booths hosted by the Women's Club will donate 100 percent of their profits to scholarships.
On Friday, Nov. 4 from 11 a.m. to 2 p.m., a traditional enchilada and hot dog lunch will be provided for hungry shoppers and vendors. All proceeds from the lunch will go toward scholarships.
Susanne Forrest, publicity officer for the Women's Club, encourages the community to come to the fair.
"We would like to cordially invite all ISU faculty, staff, students, alumni and friends in the community to start their early holiday shopping at the fair to help us reach our goal of raising enough money to fund at least three $3,000 scholarships," Forrest said.
"Giving the gift of education is the gift that keeps on giving," she added.
Thanks to the funds raised by last year's Holiday Fair, the Women's Club was able to provide scholarships to three ISU students. Those students were:
Employee Child Scholarship: Dalton Wray, a sophomore majoring in history who dreams of becoming a history professor someday and credits his mother for getting him into college;
College of Technology Scholarship: Monique Gallegos, a senior majoring in energy systems nuclear operations technology who watched her family struggle financially and is now pushing herself by working two part-time jobs and going to school full-time to further her career goals; and
Junior Woman – Ruby Taylor Scholarship: Taylor Ramos, a junior majoring in microbiology and working toward becoming a physician assistant.
For more information on the Holiday Fair, contact Forrest at (208) 282-4062 or forrsusa@isu.edu.
---
Categories: