Idaho State University School of Performing Arts to present psychological thriller "The Turn of the Screw"
October 10, 2016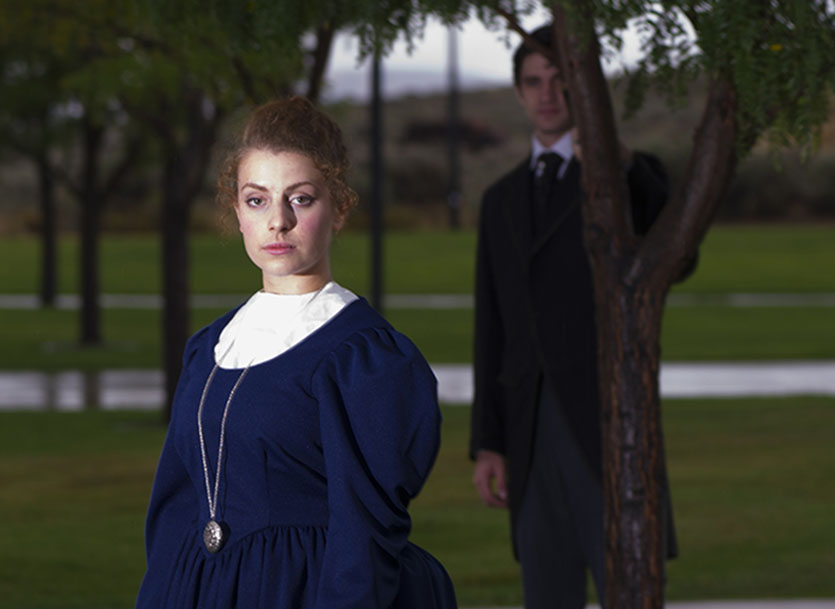 POCATELLO – Idaho State University's School of Performing Arts will present the psychological thriller "The Turn of the Screw" on Oct. 21, 22, 27, 28 and 29 just in time for Southeast Idaho residents to get ready for Halloween.
The play will be performed at 7:30 p.m. in the James E. and Beverly Rogers Black Box Theatre in the L.E. and Thelma E. Stephens Performing Arts Center, and is directed by Vanessa Ballam.
"The Turn of the Screw" is based on Henry James' classic ghost story, and was adapted for the stage by Jeffrey Hatcher. The production is set in Victorian England where a governess is sent to an isolated estate to care for two orphans. The only instruction given to the governess is to never bother the master. Strange things begin to happen at the estate and the governess is left to solve the mysteries.
"People have been arguing about this story for over 100 years," Ballam said. "There are many different philosophies regarding what actually happens in the story and I hope that if we do our jobs effectively, each audience member will walk away with their own interpretation."
The cast of the production consists of only two actors, Rachael Fornarotto and D.J. Klick Jr. Fornarotto plays the governess and Klick plays four different characters, requiring him to switch roles on a dime. The actors create everything from sound effects to narration to the establishment of the world. Audiences will recognize Klick from a number of Theatre ISU productions, though this is Fornarotto's first production as an ISU theatre major.
"It has been fun to pair the two together as they haven't worked together in quite this capacity before," Ballam said. "This has definitely been the most challenging dramatic endeavor I've even undertaken at ISU, and it puts incredible demands on the two actors. I think it will be very rewarding."
This production has the distinction of having two guest designers. The scenic design for the production was created by Anne Benson of Utah Festival Opera and Musical Theatre, and the lighting design was overseen by Jesse Portillo from the University of Utah. Stefan Espinosa, assistant lecturer of theatre and dance at ISU, is the vocal and dialect coach and ISU student Jacob Gardner designed the costumes.
Tickets are $15 for adults, $14 for faculty and staff and seniors, $10 for children and $7 for ISU students, and are available at the ISU box office at (208) 282-3595 or isu.edu/tickets. The play is one act and will run a little over 90 minutes with no intermission. Due to the intensity of the story, the show rating is PG-13.
---
Categories: