Idaho State University professor Jon Armstrong releases new album "Burnt Hibiscus" produced by Orenda Records
November 10, 2016
POCATELLO – Idaho State University jazz studies Director of Jon Armstrong released his new album "Burnt Hibiscus," produced by Orenda Records, on Nov. 4.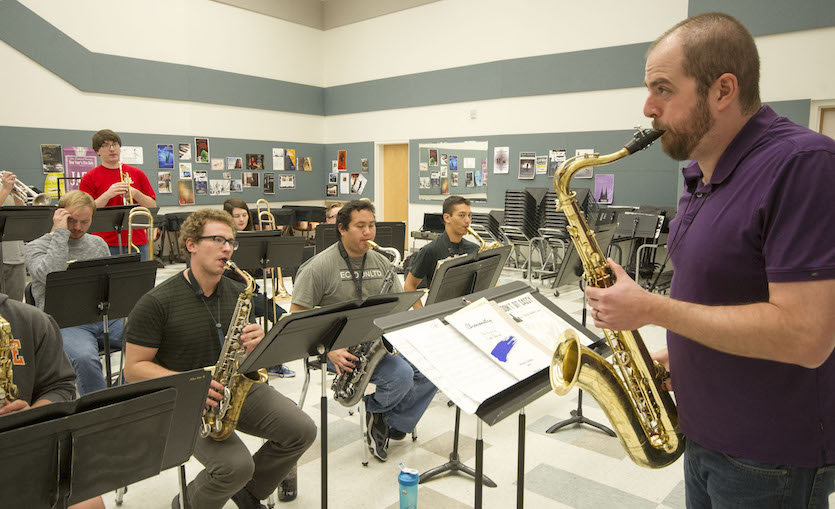 The album is a collaboration between Armstrong and Indian-American vocalist and multi-instrumentalist Sheela Bringi. Each of the compositions was inspired by classical Indian music, and feature lyrics from poet Erin Armstrong.
"The process that goes into making an album is complex, and features so many other people that it is almost as if you're managing a small business," Armstrong said. "I started composing the music for 'Burnt Hibiscus' in early 2015, put an ensemble together, rehearsed the music, premiered the music at a concert in July of that year and then recorded it in October."
Armstrong has established himself on the Los Angeles music scene through his quartet, Slumgum and his debut album for a 23-piece jazz orchestra, "Farewell." He has also recorded and appeared live in the groups Vinny Golia, Bennie Maupin and Daniel Rosenboom, among others, and has performed in Europe, Japan and across the United States. Armstrong has served as the director of the jazz studies at ISU since 2015.
"My goal as the director of jazz studies at ISU is to run my program as if it were a professional scene," said Armstrong. "My students are composing original music. I'm bringing in contemporary concepts and sounds from the professional world and I'm inspiring them to start bands with each other and perform all over Pocatello. In a few years, I hope that Pocatello has a vibrant live music scene that is made up of passionate ISU students."
Armstrong received attention for his debut album for "Farewell" and used similar motivation in creating "Burnt Hibiscus."
"'Farewell' was a very intense record to make, as I wrote music for a 23-piece large ensemble I called the Jon Armstrong Jazz Orchestra," Armstrong said. "Those compositions took over a year to compose, and several months of rehearsing. Similar to 'Burnt Hibiscus,' I was motivated to make the album as a way to offer my gratitude to the Los Angeles music community, and I am still very thrilled with how everyone in that ensemble performed on that record."
Armstrong traveled to Los Angeles for a release concert held at the jazz club Blue Whale on Nov. 6. During his time in Los Angeles he also traveled to various high schools, educational non-profits and colleges to talk about his work both as the director of jazz studies and a recording artist at ISU.
"I make albums because I am obsessed with getting closer and closer to creating music that sounds like what goes on in my head on a long walk," Armstrong said. "That is to me, a noble and exciting lifelong goal. I will most likely never get completely there, and my musical perspective will change and refine as I age."