Idaho State University debaters place as semi-finalists in Oregon tournament
October 14, 2016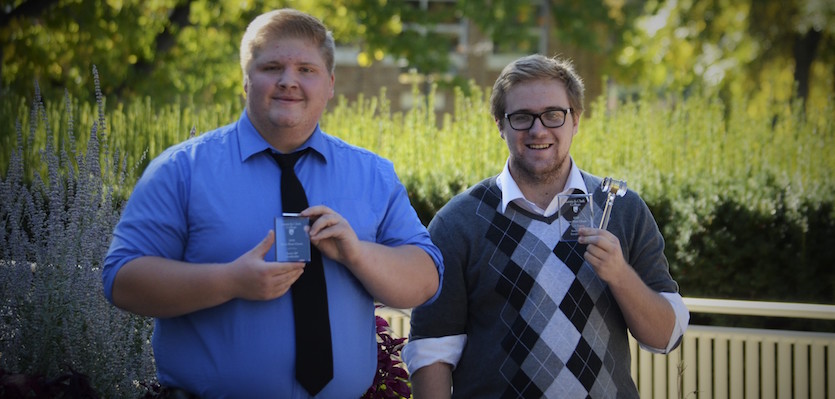 POCATELLO – Idaho State University freshmen debaters Nick Grunig and Nate Mortimer broke into the semi-finals and had a top-five showing in a 28-team Open Division at the British Parliamentary debate tournament hosted by Lewis and Clark College in Portland, Oregon.
Competing against schools such as Gonzaga and Seattle University, the Bengal duo established their place at the podium with some of the best teams in the country. Their second time competing in the parliamentary format, Grunig and Mortimer were the No. 6 seed and scored 924 speaker points over the course of six preliminary rounds at a tournament hosted in early October.
"I had no idea we were going to do as well as we did," Mortimer said. "I knew Nick and I were going to do the best we could, but I had no idea. Especially against the competition, the competition was amazing."
Mortimer led the ISU squad in the individual rankings with a 464-point performance that earned him the honor of being named as the 6th best speaker overall. Grunig's performance backed up his teammate with an individual score of 460 points that placed him 16th out of 56 total competitors.
While the former Highland High School (Pocatello) debaters Grunig and Mortimer were excelling in the open division, ISU's Jonah Ruhter and Tristin Herrup-Wheeler accumulated a combined score of 879 points in the novice division, which resulted in a tie for the eighth spot. Although Ruhter and Herrup-Wheeler crafted a strong and consistent performance, they unfortunately missed the cut by just one spot. On the individual level, Herrup Wheeler placed 10th overall in speaker points by scoring 440 points, while Ruhter finished two spots behind his teammate with a score of 439.
Cora Bidet and Mike Chen also represented ISU in the Senior Division.
Coming up next for the Bengal debaters will be an exhibition-style public debate which will debate whether the United States should continue to use the Electoral College to elect the president of the United States. Sean Illing of vox.com will moderate the debate held in the Middle Fork of the Salmon River Suites in the Pond Student Union on Oct. 18 at 5:30 p.m.
If you have any questions, please contact partsara@isu.edu.
---
Categories: