Idaho State University College of Arts and Letters to present New Year's Eve French Gala
December 14, 2016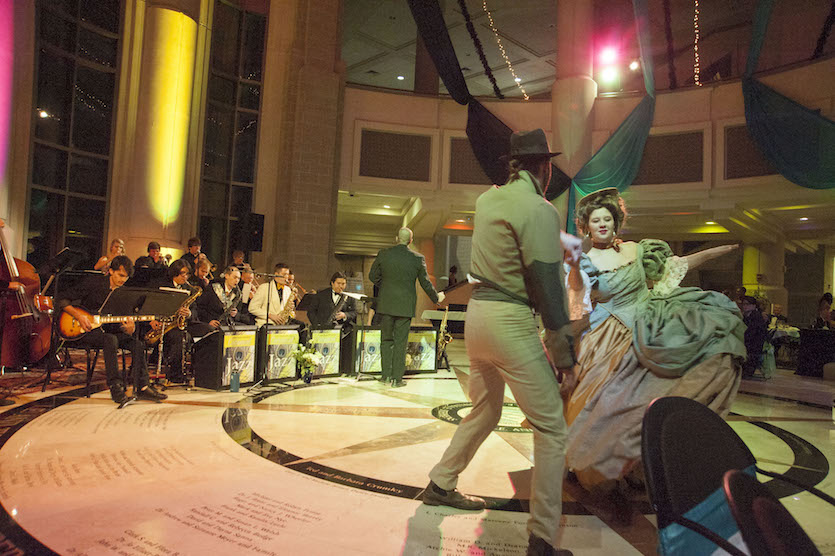 POCATELLO – Every New Year's Eve, Pocatello residents fill Idaho State University's L.E. and Thelma E. Stephens Performing Arts Center to enjoy a festive night of performances by ISU's talented students, while raising money for student scholarships at the College of Arts and Letters New Year's Eve Gala.
The College of Arts and Letters started hosting the New Year's Eve Gala in 2013 to raise money for student scholarships in the visual and performing arts while showcasing ISU's talented students. More than $84,000 has been raised for student scholarships in the Gala's first three years.
The Gala provides guests with a different theme every year to help them indulge in something new year after year. Previous themes gave included "Great Gatsby," "Masquerade Ball" and "Carnaval." This year's Gala will immerse guests in French décor, entertainment and cuisine through the theme "Le Salon des Artistes."
Students in theatre, dance, music and art will provide entertainment for the evening. Art students will be doing live drawings and showcasing their work in fiber art, installation art, digital art, drawing and painting in the Black Box Theatre. Theatre students will perform puppetry, pantomime, cabaret songs and fight combat scenes. Dance students will do improvisation dancing in the Rogers Black Box Theatre and between ISU Jazz Band sets. And last, music students will perform with the ISU Jazz Band as they ring in the New Year.
This year, the classical pop music fusion trio Time for Three will perform an intimate performance at the Gala. Time for Three consists of musicians Nicolas Kendall, violin, Charles Yang, violin and Ranaan Meyer, double bass. They perform music ranging from classical to bluegrass to jazz to hip-hop, as well as original mash-ups of hits by the Beatles, Kanye West, Katy Perry, Justin Timberlake and more. They have performed across the world including Carnegie Hall, the Indy 500 and NFL games. Time for Three has also performed around various locations in Idaho.
ISU's Department of Art will donate six pieces of art to give away to Gala guests including an original print by Juliet Feige, a tea set created by Chris Pickett, bronze masks and a bronze casted sculpture crafted by Jeff Adams and a necklace designed by Laura Makowski. ISU Credit Union will also give away two tickets to Disney on Ice in Salt Lake City.
The event is sponsored by several companies and members of the community including The Bistline Foundation, Portneuf Medical Center, Mountain View Hospital, Zions Management Services, Farm Bureau Insurance, Premier Technology, ISU Credit Union, Southeast Idaho Gastroenterology, Idaho State Journal, Christine's Floral and Gifts, Unforgettable Events, Safari Graphics and KPVI News 6.
Tickets are $125 each or $1,000 for a table of 10 and include entertainment, food and drink. Tickets are available at isu.edu/calgala, or by calling (208) 282-3207. If you are traveling from out of town, or would like to stay in a hotel after the Gala, mention "Idaho State Symphony" at the Holiday Inn Express and receive a room for the evening for $99. Black tie or formal attire is encouraged.
If you are unable to attend the Gala, but would like to donate, please contact the College office at (208) 282-3207.
---
Categories: