Idaho State University and College of Western Idaho launch Bengal Bound program for CWI transfer students
September 30, 2016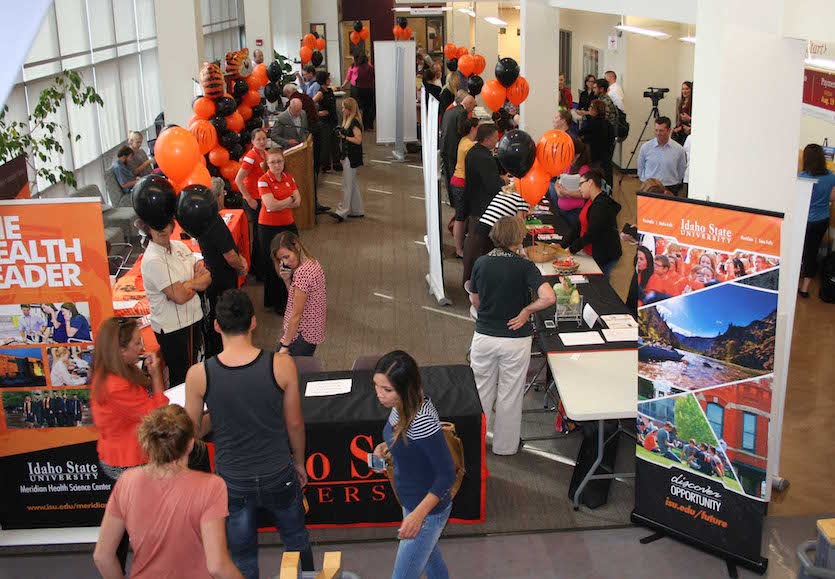 NAMPA —College of Western Idaho freshmen Aaron Siler, 24, and Andrea Conejo, 18, were greeted by a wave of orange and black as they strolled through the second-floor atrium of the community college's Academic Building on Sept. 29.
It was the launch of Bengal Bound, a new program designed to encourage Idaho community college students to continue their education at Idaho State University once they successfully complete their associate degrees.
"ISU is so pleased with this new partnership and the opportunities it will create for Idaho's community college students," said Dana Gaudet, ISU assistant director of recruitment and student services.
Tables filled with Bengal swag and loads of information about ISU programs—from the health professions to geosciences—lined the atrium. CWI students had the opportunity to meet face-to-face with close to two dozen recruiters and advisers from Pocatello and Meridian campuses.
"This is definitely helpful. You have the opportunity to ask questions about prerequisites," said Siler, who wants to continue his education at a four-year university after he completes his associate degree in physical therapy assisting.
Conejo, who is in Siler's program, plans to pursue an advanced degree after she earns her associate degree. "Events like this are a great way to explore your options," she said.
Benefits of Bengal Bound, which also apply to qualifying students from College of Southern Idaho and North Idaho College include:
Guaranteed admission to ISU for students who complete an associate degree with a G.P.A. of 2.0 or higher
Coordinated academic advising with ISU and community college advisors
A dedicated ISU transfer admissions counselor
A seamless transfer, meaning all college-level credits will transfer through articulation agreements
An application-fee waiver and scholarship opportunities based on cumulative G.P.A.
David Shellberg, CWI's executive vice president of instruction and student services, says his institution is thrilled to partner with ISU to expand transfer opportunities.
"Our four-year partners have made a tremendous commitment to help make education beyond CWI a reality for more of our students," he said.
---
Categories: