Idaho State-Civic Symphony to present holiday classic concert "Joy to the World: an ISU Christmas" on Dec. 9 and 10
November 29, 2016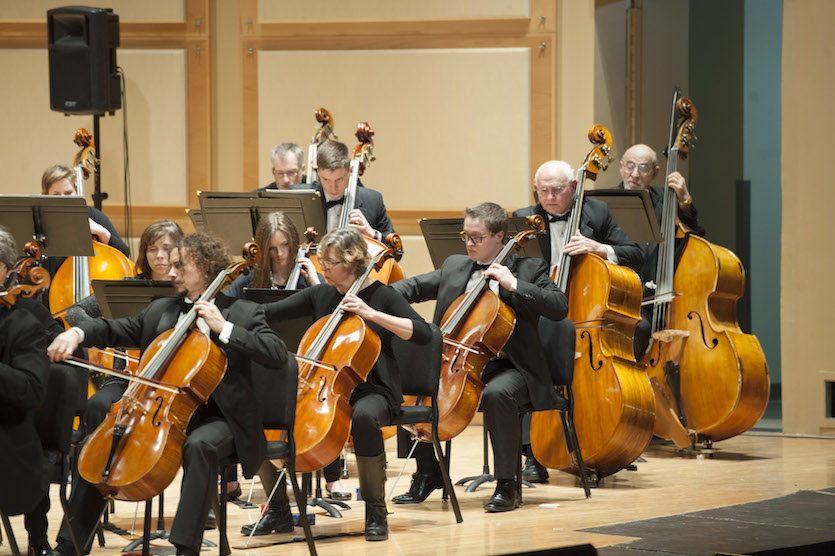 POCATELLO – The Idaho State-Civic Symphony will join the Idaho State University Camerata Choirs and ISU Choirs to present the "Joy to the World: an ISU Christmas" concert at 7:30 p.m. Dec. 9 and 10 in the Joseph C. and Cheryl H. Jensen Grand Concert Hall in the L.E. and Thelma E. Stephens Performing Arts Center.
The holiday concert will feature J.S. Bach's "Wachet auf, ruft uns die Stimme," which means "Wake up! The voice calls us!" The music will take concert goers to the city of Jerusalem around midnight on a very special evening filled with the joy of Christmas.
Guests can arrive early to meet with friends in the Barbara J. Marshall Rotunda, savor the ambience of the special Christmas decorations and enjoy snacks and beverages available for purchase before the concert from 6:30 to 7 p.m. Doors to the Jensen Grand Concert Hall will open at 7 p.m.
The concert will begin with "O Come, O Come Emmanuel," a piece picked to set the tone for the evening. The orchestra and choirs will then perform Bach's "Wachet auf, ruft uns die Stimme" an exquisite piece with a staggering level of beauty and complexity. The first half of the concert will conclude with the choirs and orchestra performing "Deck the Halls," a traditional Christmas song that will warm your hearts.
After intermission, the performance includes the energetic, "Dance of the Tumblers," by Rimsky-Korsakov, an exhilarating orchestral piece from his opera, "The Snow Maiden." The choirs will keep your emotions flowing by performing Salamone Rossi's "Elohim Hashavenu," followed with the prelude from "Hansel and Gretel." The choirs will then captivate with "Betelehemu," a Nigerian carol with a very special and dramatic feel.
Lastly, rejoice in John Rutter's arrangement of Isaac Watt's 18th-century work, "Joy to the World." The evening's traditional finale, Richard Anderson's "Sleigh Ride," will complete the concert.
Tickets are available at the Stephens Performing Arts Center Box Office, online at www.thesymphony.us or by phone at 282-3595. Ticket prices are $34 per adult, $18 for students through high school and $12 for third-tier balcony. All prices are subject to additional Box Office fees and credit card charges. ISU students with valid Bengal cards are admitted free, up to a maximum of 150.
---
Categories: