Idaho State-Civic Symphony to host Douglas Lowry tribute concert on Nov. 11
November 7, 2016

POCATELLO -- The Idaho State-Civic Symphony will host a concert honoring the late Douglas Lowry on Nov. 11 at 7 p.m. in the Joseph C. and Cheryl H. Jensen Grand Concert Hall of the L.E. and Thelma E. Stephens Performing Arts Center.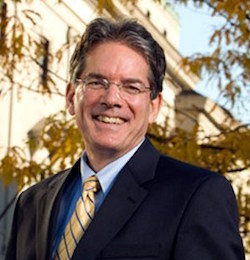 The public is invited to join the Symphony celebrating one of Pocatello's own and his accomplishments.
Pre-concert activities will begin in Stephens Performing Arts Center Rotunda at 6 p.m. Beverages and desserts will be available. Participants can meet the conductor and guest artists at 6:30 p.m. until doors open for the concert at 6:45 p.m.
The one-hour concert will take you back to the mid-1950s to the Upper West Side streets of New York City with Bernstein's exhilarating piece "Symphonic Dances from West Side Story." They will also perform the captivating piece "Fanfare for Flora" and "Between Blues and Hard Places" music by Lowry, along with talented Young Artist Competition Award winners, Anna Black and Rumeng Liao. The Symphony will be led by Grant Harville, artistic director and conductor.
Lowry was born in Spokane, Washington and grew up in Pocatello where he graduated from Pocatello High School in 1969. Lowry attended Idaho State University for two years, first majoring in pre-med and then psychology. He took piano lessons from Professor Beatrice Petree in ISU's music department, and she encouraged Lowry to take music more seriously. He took her advice and moved to Tucson, Arizona, where he received a degree in music theory and composition at the University of Arizona in Tucson. In 1974, Lowry and his wife, Marcia, moved to Los Angeles where Lowry completed two master's degrees in trombone performance and orchestral conducting at the University of Southern California. He also served on the boards of community and music organizations including the Cincinnati Symphony Orchestra, Cincinnati Opera and the School for the Creative and Performing Arts in Cincinnati. Lowry was a co-host of WVXU's "Around Cincinnati," a radio program focusing on the arts and entertainment in the greater Cincinnati area.
Lowry wrote music for a wide variety of media, including theater, and has been commissioned by the Cincinnati Symphony Orchestra, the Louisville Orchestra, Cincinnati Playhouse, St. Louis Repertory Theater and the Cincinnati Pops, among others. His compositions appear on recordings issued by Summit Records and BIS. He served as composer-in-residence at Music from Angel Fire, a chamber music festival outside Taos, New Mexico, which features musicians from the Chamber Music Society of Lincoln Center.
His most recent commission was a new work for the Rochester Philharmonic Orchestra that opened the renovated Kodak Hall at Eastman Theatre at the Eastman School of Music at the University of Rochester in October 2009. The Eastman School of Music is well-known for its role in educating talented musicians from around the world who become leaders and innovators in all fields of music. Lowry began his tenure as the sixth dean of the Eastman School of Music on Aug. 1, 2007 and was an exceptional leader and an inspiration to many. Shortly before Lowry passed away on Oct. 2, 2013, the University of Rochester Board of Trustees named him the Joan and Martin Messsinger Dean Emeritus and awarded him an honorary Doctor of Music degree.
Tickets are available online at www.thesymphony.us, in person at the ISU Box Office or by phone at 282-3595. Pre-concert activities are included with your ticket.
---
Categories: