Idaho State Civic Symphony 2016-2017 season preview and highlights
September 8, 2016
Melissa Lee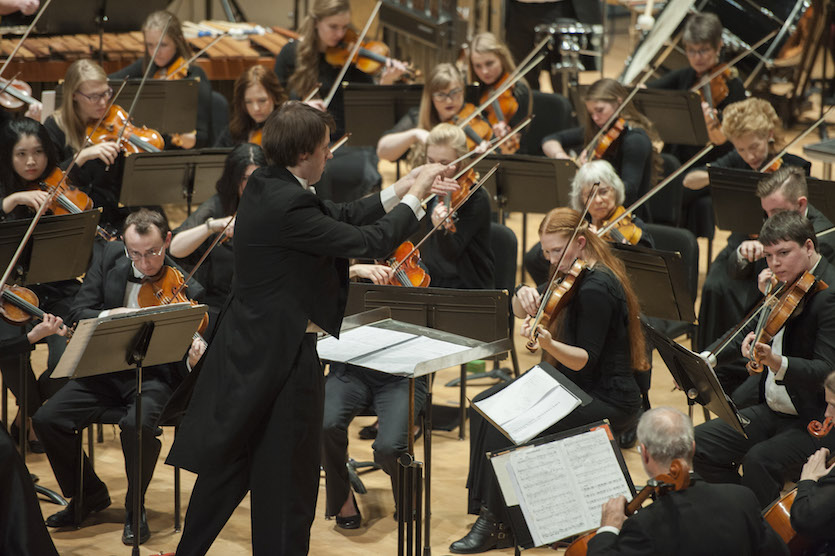 POCATELLO – The Idaho State-Civic Symphony will open its 2016-17 season with guest bassoonist John Clouser on Sept. 23 in the Joseph C. and Cheryl H. Jensen Grand Concert Hall in the L.E. and Thelma E. Stephens Performing Arts Center.
The season opener will kick off an emotionally charged and unforgettable season led by the Symphony's Artistic Director and Conductor Grant Harville. The season includes seven concerts and two Youth Orchestra concerts featuring some of the best musicians in Southeast Idaho.
Season highlights include:
New Concertmaster Hyeri Choi – Hyeri Choi is the Symphony's new concertmaster. Choi comes to Idaho from Mansfield University in Pennsylvania where she was an instructor of violin and viola. She earned her Doctor of Musical Arts degree in violin performance and literature from the Eastman School of Music at the University of Rochester. She has taught lessons at Rutgers University, New York String Academy, Eastman School of Music, Hochstein School of Music and Dance and Rochester Korean United Methodist Church. She is also teaching violin and is the strings area coordinator at Idaho State University.
Guest artist John Clouser, bassoon – Bassoonist John Clouser will perform with the Symphony on Sept. 23. Clouser is the principal bassoonist of the Cleveland Orchestra. He also serves as head of the bassoon department at the Cleveland Institute of Music, and is a faculty member at the Kent/Blossom professional training program. He is also known as the Robin Hood of the Cleveland Orchestra and is one of the world's top bow hunters. Join the Symphony for a pre-concert forum at 6:30 p.m. where you can meet the maestro and discuss the inspiration for the events of the season.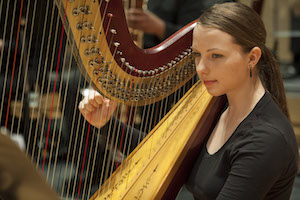 New this year, to kick off the new season, the Symphony will host its first "Tailgate with the Symphony" before their first concert in the Stephens Performing Arts Center parking lot. Participants can bring their own food and beverages and set up a table while getting to know other Symphony patrons. For those who do not want to cook, gourmet box dinners will be available to preorder. There will be prizes for the best table. Dinner boxes are $15, and it is $50 to attend both the dinner and performance for those who are not season ticket holders. RSVP by calling (208) 234-1587 or email at symphony@isu.edu.
Halloween Spook-tacular – Come to the Symphony dressed as your favorite ghoul or character and participate in hands-on activities and an instrument petting zoo. The annual Spook-tacular on Oct. 29 is an opportunity to introduce children and families to the Symphony and the various instruments that are played. The Symphony will perform a Halloween rendition of Saint-Saens "Carnival of the Animals," which is a 25-minute piece with 14 movements each representing a different animal.
Pocatellan Douglas Lowry tribute concert – As a graduate of Pocatello High School, Douglas Lowry became a perfect example of the heights that can be achieved by a musician throughout his career. He served as the sixth head of the Eastman School of Music in 2007, and was named the first Joan and Martin Messinger Dean in 2011. Upon his passing of multiple myeloma in 2013, he was named the Joan and Martin Messinger Dean Emeritus and awarded an honorary doctor of music degree. The Symphony will honor Lowry by presenting his works to Pocatello and show the legacy he had on Nov. 16.
Joy to the World – The Symphony will join with the Camerata Singers and ISU's Choirs to present "Joy to the World: an ISU Christmas" on Dec. 9 and 10. The annual Joy to the World concert features traditional holiday tunes to celebrate the season. This year's concert will feature J.S. Bach's Kantate "Wachet auf, ruft uns die Stimme," which means "Wake up! The voice calls us!" More than 150 singers and 80 instrumentalists will bring the holiday spirit to Pocatello.
Hubbard Street Dance Chicago – Jacqueline Burnett and David Schultz of Hubbard Street Dance Chicago will join the Symphony in a unique performance combining ballet and the Symphony on Feb. 10. Hubbard Street Dance Chicago is a professional dance company and one of the biggest forces in contemporary dance. They will be celebrating their 39th season this year. The evening will start with a dinner served in the Bennion Promenade, which includes a raffle of handmade ballet-themed gifts and artwork. Reservations are required for the dinner and can be made at (208) 234-1587 or symphony@isu.edu.
POPS Concert: Le Vent Du Nord – The Symphony's annual POPS fundraiser concert will feature Le Vent Du Nord, a French-Canadian Celtic fiddle band, known as the ambassadors of Francophonie (French language and music). They were recently nominated for a 2016 "Frontlines Music Award" and are tagged as one of the most influential groups in Quebec's traditional folk music revivals. The quartet will perform on March 11 and delight audiences with their blend of fiddle, guitar accordion and hurdy-gurdy.
New Youth Orchestra Conductor- Julie Sorensen will take over as the music director and conductor for the Youth Orchestra. She is an applied instructor of flute at ISU, and is also the artistic director of the ISU flute choir. She performs with the City Creek Winds faculty wind quintet and is the principal flute for the Symphony. Sorensen received her Ph.D. in Fine Arts with a concentration in Orchestral Conducting from Texas Tech.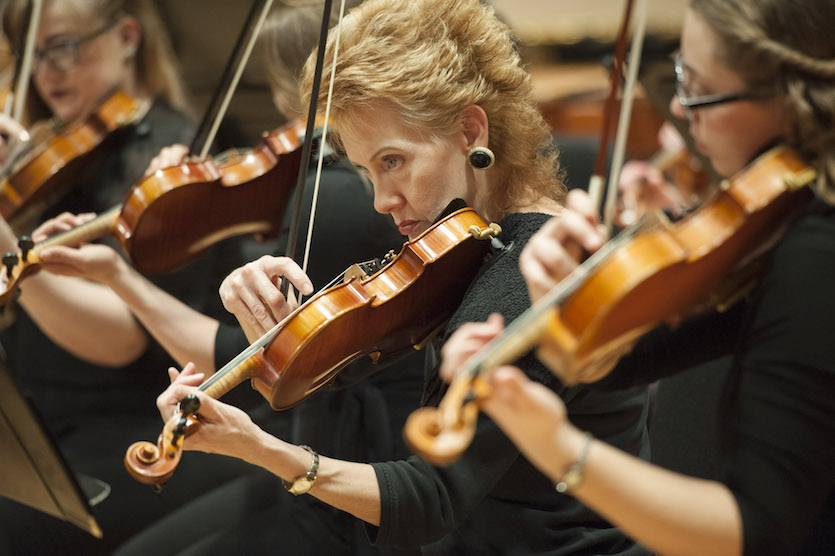 Idaho State Civic Symphony 2016-17 Season Schedule
All concerts are held in the Jensen Grant Concert Hall. Grant Harville, artistic director of the Symphony, will conduct each performance. Doors open at 7 p.m. for each performance unless otherwise noted.
Season Opener with John Clouser, bassoon, Sept. 23, 7:30 p.m.
• Tchaikovsky: "Slavonic March"
Schumann: "Overture, Scherzo, and Finale"
Tchaikovsky: "Romeo and Juliet"
Mozart: "Bassoon Concerto" (Classical Season Concert)
Halloween Family Concert, Oct. 29, 11 a.m. (Doors open at 10 a.m.)
Saint-Saens: "Carnival of the Animals"
Youth Orchestra Concert, Nov. 9, 7:30 p.m.

Douglas Lowry Tribute, Nov. 11, 7:30 p.m.

Music of Douglas Lowry
Young Artist Award Winners, junior division, Anna Black Violin; senior division, Rumeng Liao, violin
Bernstein: "Symphonic Dances from West Side Story" (Classical Season Concert)
Joy to the World: an ISU Christmas, Dec. 9-10, 7:30 p.m.

(Classical Season Concert)
Valentines Concert/Dinner, Feb. 10, 7:30 p.m.

Riegger: "Dance Rhythms"
Dvorak: "Slavonic Dance op. 72, no. 8"
Hubbard Street Dance Chicago: Choreography set to the music of Mozart, Adams and Tchaikovsky (Classical Season Concert)
POPS Concert/Fundraiser, March 11, 7: 30 p.m.
Youth Orchestra Concert II, April 16, 7:30 p.m.
Final Season Concert, April 28, 7:30 p.m.
Mendelssohn "Elijah"
Diana McVey, soprano
Michele Detwiler, alto
Geoffrey Friedley, tenor
Tyler Oliphant, bass
ISU Concert Choir
Camerata Singers
(Classical Season Concert)
Ticket Information
Individual concert tickets are $36 for adults; $33 for ISU faculty/staff; $19 for non-ISU student; $12 for third-tier balcony seating (no age restrictions, limited seating). The Family Concert matinee is $8 for a single ticket or $27 for a family of up to four. Idaho State University students will be admitted free of charge to the five Classical Series concerts only with a valid student ID, limited seating available.
Full Package, includes six concerts – the five classical concerts plus the POPS concert. Prices are $175 for adult; $159 for ISU faculty/staff; $96 for non-ISU student.
Classical Package, includes the five classical series concerts only. Prices are $155 for adult; $141 for ISU faculty/staff; $83 for non-ISU student.
Flex-3 Package, includes three concerts of choice and allows patrons to have the same seat for all three concerts. Prices are $108 for adult; $98 for ISU faculty/staff; $57 for non-ISU student.
Family Season Package, includes the Halloween Family concert, both Youth Orchestra Family Concerts, and one dress rehearsal family pass. Prices are $50 for adults; $26 for ISU faculty/staff.
New this year, first time subscribers are eligible for a "Buy One Get One" on any package.
Tickets are available at the ISU Box Office in the Stephens Performing Arts Center (1102 Sam Nixon Dr.) or at 282-3595 or isu.edu/tickets. Brochures containing order forms are available at the Box Office and will provide complete information for ticket orders and/or contributions. Tickets are subject to a $4 Box Office handling fee (per order) and applicable credit card charges.
---
Categories: