Get out of your house and into the trees at the IMNH newest exhibit opening Jan. 28
December 19, 2016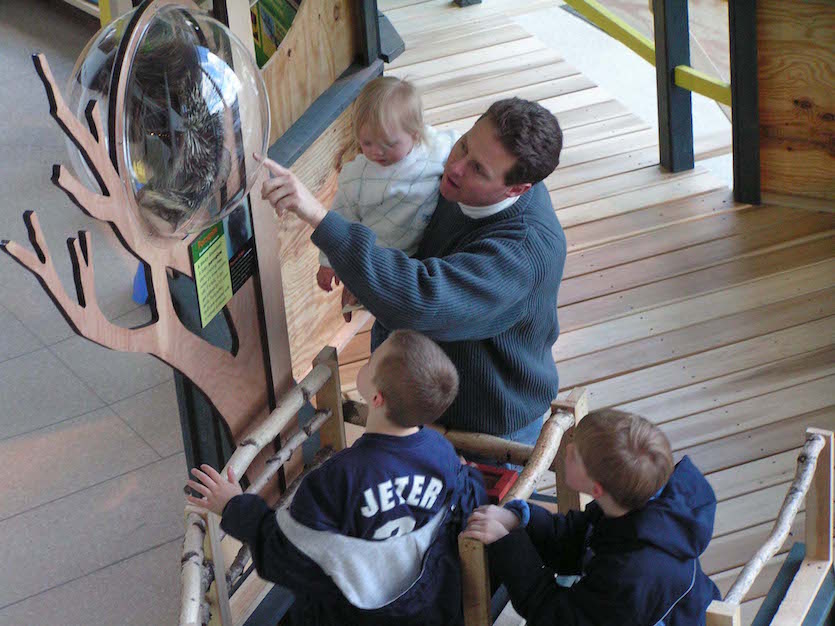 POCATELLO – This spring, families can spend some quality time hanging out in the trees with a visit to the newest exhibit Tree Houses opening Jan. 28 at the Idaho Museum of Natural History at Idaho State University.
This exhibit includes fun, hands-on ways to explore the important roles that trees play in providing homes for all sorts of wild things, including people. Incorporating all of the senses, this popular exhibit engages forest explorers of all ages in indoor nature explorations and the ecology of sustainable harvesting of this important natural resource.
In the exhibit, families can:
look for signs of animal tree dwellers as they walk through an indoor tree house and across a wobbly connecting bridge
play a computerized forest game where they can harvest trees without harming wildlife
watch how a forest becomes house
view the tree houses people have built around the world— even design and build their own
see stereoscopic 3-D images of some of the smaller animals we can find living in New England's trees
listen for animals inside the tree house and try to guess their sounds on an "animal dance floor"
peer down from inside a "crow's nest" (and peer down at the folks "on the ground")
revisit favorite fictional tree dwellers, from the Ewoks of "Star Wars" to "Winnie the Pooh"
wander through a "kitchen" to discover not-so-obvious tree connections in our own houses
Tree Houses will open to the public on Jan. 28. The exhibit was produced by the Environmental Exhibit Collaborative, which is comprised by EcoTarium, Worcester, Massachusetts; ECHO at the Leahy Center for Lake Champlain, Burlington, Vermont; and the Children's Museum of Maine, Portland, Maine. It also received major support from Jane's Trust. Additional support was provided by Cabot Family Charitable Trust and the Institute for Museum and Library Services. It will be at the Idaho Museum of Natural History through May 6.
The Idaho Museum of Natural History is open six days a week, closed Mondays. During the holiday period, it will be closed Dec. 24 and 25 and Jan. 1. The museum is located at 698 E. Dillon Street in Pocatello, and complimentary parking is provided for patrons in the General Parking Lot 01. For more information please call (208) 282-3168 or visit www.imnh.isu.edu.
---
Categories: