College of Business and ISU Foundation launch annual fundraising campaign
November 29, 2016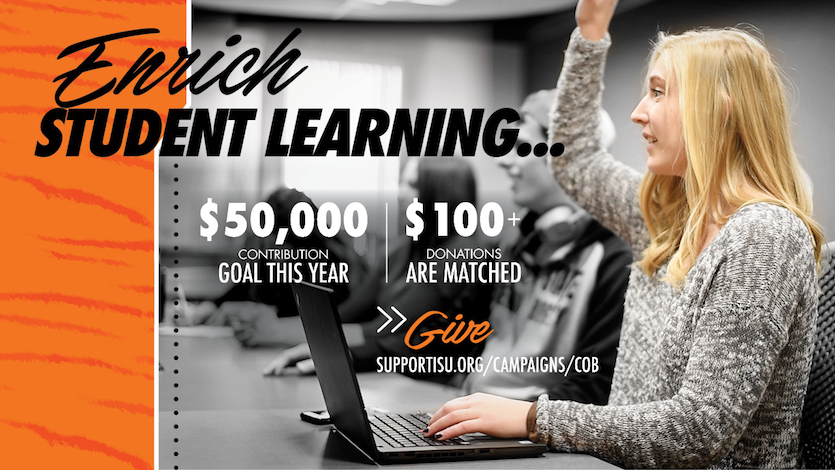 The Idaho State University College of Business and ISU Foundation office are hoping to raise $50,000 for technology and equipment upgrades through their annual fundraising campaign.
"In order to compete and continue to deliver the finest educational experience for our student, we must deliver and maintain classrooms with modern technology to meet the growing technological demands of students and businesses in the 21st Century," said Tom Ottaway, College of Business dean.
The campaign runs through Feb. 1. Additionally, the College of Business Leadership Board and other donors have pledged to match up to $25,000 for any contribution of $100 or more made through Feb. 1.
"I am very grateful for the generosity of our donors and the opportunities this matching fund will bring for reaching our goal," Ottaway said.
Ottaway said the College's main focus is in upgrading classroom equipment including student seating, white boards, projectors and touch screens in the classrooms for opportunities in hands-on learning exercises in class.
The College of Business puts a strong emphasis on applied learning and professional development. College of Business graduates have a 90-percent placement rate in the workforce with an average starting salary of $45,500.
In 2014-2015, the College raised more than $32,000 with matched funds as a result of 164 donor contributions.
To make a contribution and help support the growth and innovation of the College of Business or for more information about the campaign and how your contribution will benefit business students, visit https://supportisu.org/campaigns/cob. To learn more about the College of Business visit www.isu.edu/cob/.
---
Categories: