ISU's Department of Communication, Media and Persuasion holds "Job Talk" with Kansas City Royals coordinator for community affairs and publicity
April 15, 2015
ISU Marketing and Communications
Amanda Schapiro, the coordinator for community affairs and publicity for Major League Baseball's Kansas City Royals, spoke on April 14 at the North Fork room of the Pond Student Union.
Schapiro discussed via Skype, her career and experiences conducting community affairs as the KC Royals competed in the 2014 World Series. Her job talk is part of the department's Sport Public Relations course taught this semester.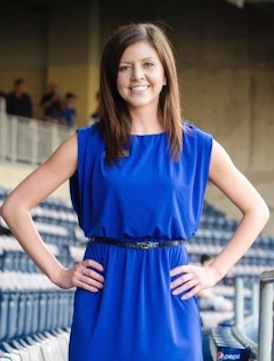 Students and community members were encouraged to attend. Attendees had the opportunity to ask questions and better understand the public relations functions of a professional sports organization.
"Our department values connecting classroom theories and concepts to professional work places," said Prof. Karen Hartman, who currently teaches the sport public relations course. "Having a representative from a World Series championship team is an amazing opportunity for students to have inside access to how a professional team manages its image and communication efforts."
The James E. Rogers Department of Communication, Media, and Persuasion is driven by a commitment to creativity, innovation, and relevance. Our strategically integrated curriculum, engaging coursework, and supportive instruction and feedback offer educational experiences that equip students for lifelong success. For more information visit: http://www.isu.edu/cmp/
---
Categories: