ISU Office of Alumni Relations 100th Birthday Party for Col. Kirkpatrick set April 21 at Holt Arena Caccia Field
April 17, 2015
ISU Marketing and Communications
Idaho State University will honor Colonel David V. S. Kirkpatrick for his long service to the University with a 100th birthday celebration from 6 to 8 p.m. Tuesday, April 21, at Holt Arena Caccia Field in the east end zone. The event is open to the public and light refreshments will be provided.
"The Colonel is amazing. His mind is sharp as a tack at the tender age of 100," said K.C. Felt, ISU alumni director. "He has been part of the fabric of Idaho State University for many, many years. His affinity for ISU has had far-reaching impact on former, current and future students. It is our honor to recognize this very special man."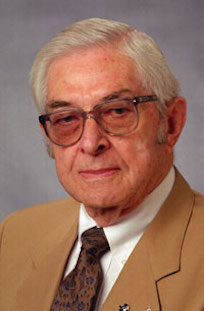 Kirkpatrick was born April 9, 1915, in Indiana where he grew up on the family farm. He graduated in 1940 from Indiana University and became a commissioned officer in the Army. He is the father of two children, Mary Ann Stoll and David (Cristal) Kirkpatrick Jr. and has two grandchildren, Tristan and Daniel Kirkpatrick.
Col. David V.S. Kirkpatrick, or "The Colonel" as he is widely known, spent 20 years as director of ISU housing and was also commanding officer of the ISU ROTC program from 1951 to 1955 and 1960 to 1961.
He was the first commanding officer when mili­tary science, also known as ROTC, was introduced to Idaho State College in 1951. Then a lieutenant colonel, Kirkpatrick was a training officer who had served a tour of duty in the Office of the Chief of the Chemical Corps in Washington, D.C. He com­manded the ISU unit from 1951 to 1954 and from 1958 to 1961.
When Kirkpatrick retired from the Army in 1961, he was named ISU's director of housing and filled that post until 1981, when he retired. He was subsequently named emeritus professor of military science.
Kirkpatrick is a member of the Bengal Founda­tion board and has received many yearly awards for topping the $10,000 mark in its annual member­ship drive. He participates in the ISU Foundation's annual "I Love ISU" scholarship fund-raiser and has helped endow several scholarships.
A "scouter" for more than 45 years, Kirkpatrick is active in the annual "Friends of Scouting" fund drive, has served in leadership roles ranging from cub scoutmaster to president of the Tendoy Area Council, and is a member of the Council Hall of Fame.
He is a 50-year member and past president of the Kiwanis Club of Pocatello and has served it and the Utah-Idaho District in various leadership and fundraising positions.
Kirkpatrick's community involvement also includes president of the Camp Taylor board of directors, membership in the Greater Pocatello Chamber of Commerce and the Pocatello Chiefs, and past chairman of the Bannock County Chapter of the American Red Cross. He has received many awards from various organizations in Pocatello.
---
Categories: