ISU music students to premiere composition at Percussion Ensemble and Chamber Orchestra Concert on April 16
April 15, 2015
ISU Marketing and Communications
Two Idaho State University music students will have the world premiere of their composition at the Percussion Ensemble and Chamber Orchestra Concert on April 16 at 7:30 p.m. in Goranson Hall.
Kylle Strunk and Jedd Greenhalgh, both sophomores, wrote the composition "The Box" after the Greek Myth of Pandora's Box. The composition is made into four movements, each representing Pandora's curiosity, and the seven deadly sins – greed, pride, sloth, gluttony, lust, envy and wrath. Each movement has a different style of music and uses instruments differently.
"There are different themes for the seven sins unleashed," said Greenhalgh. "Each theme is represented by a different instrument during the four movements of the show."
The duo worked on "The Box" over ISU's winter break, working day and night to finish the piece, as well as taking hourly shifts. The two say that hearing their composition performed is surreal.
"Hearing people practice the music you wrote is out of this world," Strunk said.
Strunk and Greenhalgh have already written one composition together, "Crucible" a violin and marimba duet, which was performed last semester at the department's Chamber Music Night. The duo is also writing a piece that will be performed in the fall during a Symphonic Band performance, and has written another violin and marimba duet titled "Zephyr."
"We want to get as many pieces played by ensembles at ISU as possible before graduation," said Greenhalgh.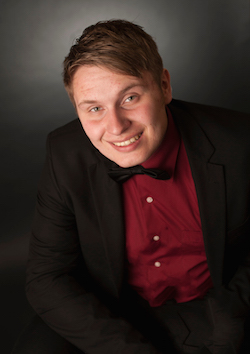 Strunk and Greenhalgh give thanks to ISU music faculty members Grant Harville, Shandra Helman and Thom Haspenflug for the comments, directions and suggestions they gave on the composition.
Strunk won ISU's Got Talent competition on April 3 with his performance "Beethoven…Basically" on the Mmrimba. Greenhalgh won ISU's Got Talent in 2014 with his performance "Mozart…Kinda." Their performances can be found on YouTube. Both students see themselves as composers of some form in the future.
The Percussion Ensemble and Chamber Orchestra concert is free and open to the public.
---
Categories: