Idaho State University's Summer Theatre Program to present musical comedy "Anything Goes"
June 5, 2015
ISU Marketing and Communications
Idaho State University's Summer Theatre Program will present Cole Porter's production "Anything Goes" on June 12, 13, 15, 18, 19 and 20 at 7:30 p.m. in the Bistline Theatre in the Stephens Performing Arts Center.
"Anything Goes" is a musical comedy set on an ocean liner traveling from New York to London. Two unlikely couples strive for true love amidst much humor and antics. Described as, "musical-comedy joy," by The New York Times, the musical is appropriate for the entire family. The production features lots of dancing, slapstick comedy and the classical tunes of Cole Porter.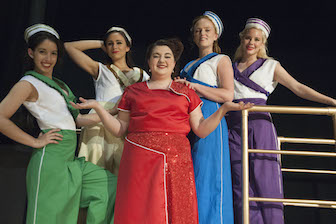 The production is directed by Diana Livingston Friedley, director of undergraduate studies in music. This is Friedley's second time directing a musical, and has co-directed operas and opera scenes before.
Friedley said most people will recognize these classic songs from the play including "Friendship," "Anything Goes" and "I Get a Kick Out of You."
"I think people will love the music," Friedley said. "People will know the songs and leave the theatre humming them."
A live band directed by Geoffrey Friedley, adjunct music professor, will accompany the production and feature woodwinds, brass and piano. The choreography was designed by Lauralee Zimmerly, dance professor.
The annual summer theater program produced by the School of Performing Arts and the College of Arts and Letters showcases Southeast Idaho's talent and the resources ISU has to offer. This year's cast is divided equally between community members and ISU students and alumni.
Tickets are available for purchase at isu.edu/tickets or 282-3595, as well as Vickers Western Wear and the ISU Campus Connection Desk. Tickets are $15 for adults, $14 for ISU faculty and staff, $10 for children ages 18 and under and $7 for ISU students with Bengal ID.
---
Categories: