Idaho State University's Ram Eddings presented with a Lifetime Achievement Award from the U.S. Rugby Hall of Fame
April 9, 2015
ISU Marketing and Communications
The U.S. Rugby Hall of Fame will present a Lifetime Achievement Award to Ram Eddings, coordinator for the Idaho State University Diversity Resource Center, for his devotion to the sport of rugby, including nearly 20 years as a coach of ISU rugby club teams.
The Lifetime Achievement Awards recognizes and honors individuals who have dedicated their life to the sport of rugby and whose service and commitment to rugby may have gone unrecognized.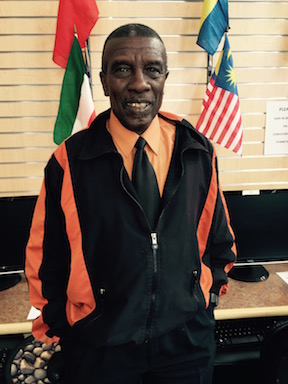 "It's a good feeling to be recognized. Everyone wants to be apart of something and I am honored to be receiving this award," Eddings said.
Eddings has been involved with rugby for 40 years. In 1974, Edding began his rugby career and played on a Pocatello team. He played the sport competitively for 19 years and started to coach afterwards. He was the coach of the ISU men's rugby team until 2013. He is now coaching the ISU's women's rugby team.
"There are so many memories I have made throughout my rugby career. I have been a player, coach, referee and administrator," Eddings said. "Rugby has been good. You get to travel and meet new people."
Eddings founded the Grey Wolves, a national minority team, to play in tournaments and interact with inner city youth.
"From working with troubled youth to teaching the game, it's very rewarding and worth it to uplift kids," Eddings said. "Rugby is like life, when you get knocked down you have to get right back up or the game moves on without you."
The U.S. Rugby Hall of Fame announced the award this spring. Eddings will officially receive the award at a ceremony this summer.
---
Categories: