Idaho State University's Layha Spoonhunter sees President Obama again; heading to Washington, D.C. for UNITY Conference in February
January 22, 2015
ISU Marketing and Communications
Idaho State University political science sophomore Layha Spoonhunter was among the thousands in attendance at President Barack Obama's appearance in Boise on Jan 21 at Boise State University, but he was one of the few in the audience who had already met Obama in person.
Spoonhunter was active in both of Obama's 2008 and 2012 campaigns. He met Obama in person at a rally in Casper, Wyoming, and served as the youngest delegate to the Democratic National Convention in 2008. He also danced at Obama's 2009 inauguration with an Eastern Shoshone group and danced at Obama's 2013 inauguration with the Wind River Dancers, made up from members of the Eastern Shoshone and Northern Arapaho Tribes.
"It was unique to be involved with such a historic campaign," Spoonhunter said. "It's exciting seeing him again today. To be able to see him in the last legs of his pending presidency is an honor and it is very historic."
Leadership and involvement are cornerstones of Spoonhunter's life and are what motivated him to see Obama today. In 2007 he was part of a Native American youth delegation that visited the United Nations to provide input on the U.N.'s Declaration on the Rights of Indigenous People.
Spoonhunter will once again visit Obama's turf, heading to Washington, D.C., to attend the Midyear UNITY (United National Indian Tribal Youth) Conference Feb. 11-15.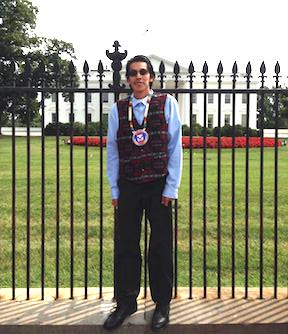 Spoonhunter, 24, was honored as one of UNITY's 25 Under 25 last summer, an award that recognized the top 25 leaders from Indian Country. He attended the 2014 National Unity Conference in Portland, Oregon, last summer where he was recognized for his award and served as an ambassador and conducted trainings.
"I've been involved with UNITY for more than seven years," said Spoonhunter, who serves on the group's national executive committee. "I believe in the purpose of UNITY and believe in its message to encourage native youth to strive to be the best leaders they can be. UNITY focuses on mentoring our native youth nationwide and that is something I am passionate about."
In February, Spoonhunter will attend the Midyear UNITY Conference to help plan the 2015 UNITY National Conference this July. The annual National UNITY Conference, to be held this year in Washington, D.C., will attract more than 1,000 Native American youth from more than 140 tribal youth councils throughout the United States.
Spoonhunter is from the Wind River Reservation in Wyoming, from the town of Ethete. On his mother's side he is Eastern Shoshone and on his father's side he is Northern Arapahoe and Oglala Lakota. He claims a linage that goes back to Chief Washakie on his mother's side and to Chief Crazy Horse on his father's side.
At ISU, Spoonhunter is vice president of the student group Native American United (NAU), and has helped organize the ISU Pow Wow and is helping organize NAU's activities being held as part of the 40th annual Northwest Indian Youth Conference that will be hosted by the Shoshone-Bannock Tribes at Fort Hall and ISU March 23-26.
Spoonhunter was also crowned NAU's Mr. Native Two Spirits ISU at the group's royalty competition in November, where he competed against Miss and Mr. Native ISU.
"The term 'two spirited' was coined in 1990 by the Native American community in 1990 because there were so many different terms for LBGTQ (lesbian, gay, bisexual and transgender) in Native languages," Spoonhunter said. "They came up with this term to refer to someone with both masculine and feminine characteristics."
Prior to colonization, Spoonhunter said, two-spirited people were often doctors, healers and leaders in Native American tribes.
"Now we're seeing a time when tribes are trying to work to re-implement this history back into or tribal governments," Spoonhunter said.
This fall, he also worked with the Human Rights Campaign, the largest LGBT advocacy center in the United States, on three blogs: one recognizing Native American Heritage Month and one on Miss Montana Two Spirit.
"The third was my own personal perspective of my work with two spirits and my own coming out story," Spoonhunter said.
---
Categories: