Idaho State University Women's Rodeo Team ranked No. 1 in region, heads to nationals June 14-20
May 1, 2015
ISU Marketing and Communications
The Idaho State University Women's Rodeo Team finished No. 1 in its region, currently leads the college rodeo national standings and will compete at the College National Finals Rodeo June 14-20 in Casper, Wyoming.
Four of the five ISU Women's Rodeo Team members that will compete at the College National Finals Rodeo this year finished first in four events during the 2014-15 Rocky Mountain Region's 10-rodeo season.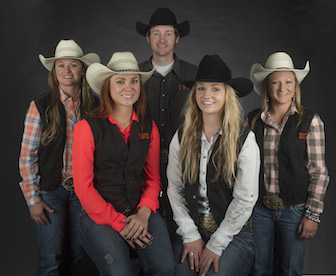 The ISU women dominated the region, scoring a team total of 6,343.5 points compared to runner-up College of Southern Idaho's 1,810 points. The ISU Women's team swept the top-three spots and fifth in the Women's All-Around competition. Many of the team's members were on the ISU Women's Rodeo Team that won a national title in 2013.
ISU's first-place finishers were:
• Kimberlyn Fitch, American Falls, first, women's all-around and breakaway roping, she was also the 2013 national champion in breakaway roping;
• Megan E. Gunter, McCammon, first, team roping header;
• Shelby Freed, Pocatello, first, barrel racing; and
• Jacalyn Walker-Austin, Plain City, Utah, first, goat tying.
"Two years ago, the women's team won the College National Finals Rodeo," said Melisa Moon Giannini, ISU Rodeo Club advisor. "We're excited and we think we have a good chance of winning it all again."
The top three finishers in the region in each event qualify for the national rodeo. Other top-three finishes in region by ISU women's team included, Freed, second in the women's all-around; Walker-Austin, third in the women's all-around; Fitch second in barrel racing; and Gunter, third in break away roping and fifth in the all-around; and Kindee Wilson, Filer, third in goat tying.
"I think the amount of competitiveness, even among our team, is a good thing and makes everybody better," said Jared Arave, one of the team's coaches. "The key to our success is that we have good girls really pushing each other."
Walker-Austin, who is pursuing her Master of Health Education degree at ISU after graduating with her bachelor's degree from Utah Valley University last year, competed against some of her former teammates during the regional competition. UVU also competes in the Rocky Mountain Region.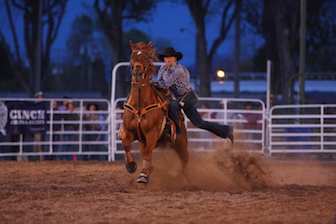 "It has been really fun competing for ISU during the season, and now we are going on to nationals," Walker-Austin said. "It's a clean slate once you get to the college finals and we'll do our best. ISU rodeo is what brought me here to do my master's."
On the men's side, ISU will be sending Dallen Gunter, who finished first in the region in men's team roping heeler, while competing with his sister, Megan, in this event. This is the third time the siblings from McCammon will compete at the College National Finals Rodeo and the second consecutive year they finished first in the region.
"At nationals, there is a lot more excitement and a lot more on the line, so there is more pressure," Dallen Gunter said. "But if we compete to the best of our abilities, I don't see any reason we won't place high in the event."
Overall, the ISU Men's Rodeo Team finished seventh in the region.
"It was a fun year and we appreciate all of our sponsors who have helped us along the way," Giannini said. "We appreciate that support and we hope to be good representatives of the state, school and all the people who have supported us."
---
Categories: