Idaho State University engineering, physical therapy researchers join effort to create an augmented reality device to aid arm rehabilitation
January 12, 2015
ISU Marketing and Communications
Researchers at Idaho State University are working to create a virtual reality system that will assist with arm rehabilitation for people who have suffered from strokes or who have had an arm amputation.
The wearable goggles could potentially even help patients before they have a new prosthetic after an amputation or have use of their arms after a stroke.
"There is evidence that watching a real or virtual human arm motion improves arm control by the observer," said Alba Perez Gracia, ISU associate chair and associate professor of mechanical engineering. "This project aims to develop and test a new, virtual-reality, wearable system for training of the human arm."
Perez Gracia, ISU mechanical engineering Professor Marco Schoen, and ISU physical therapy Associate Dean and Director Nancy Devine are working on a National Science Foundation Grant in collaboration with Texas A&M University and California State Fullerton University to develop the new device for upper-limb rehabilitation.
The ISU researchers will work on some of the robotics, control and patient training protocol aspects of the project. Training protocols will be developed to aid rehabilitation of patients following stroke or upper limb amputations.
The anticipated outcome of the three-year "very conceptual" project is to have a showcase demonstration and have a sample device. The goal of the first year is to develop the device, the goal of the second year is to implement it with people who have had strokes, and the goal of the third year is to implement it with people who have had amputations.
"The patients can wear a set of goggles that will give them a virtual image of the arm they use or have trouble moving either due to a stroke that hasn't recovered well or because of an amputation," Devine said. "The device will help teach them through a virtual-reality system to use their limb or prosthetic device."
She said the human nervous system has a mirror-neuron system that this device will try to activate to the patient's advantage.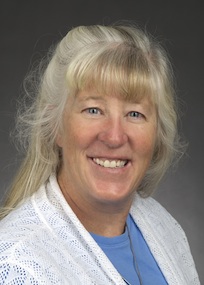 "If you have an intact limb doing something and have it mirrored over to your non-functioning or missing limb, just observing its use it will improve the use of that extremity," Devine said. "In human beings it has already been discovered that this can help with rehabilitation. The new component is developing the virtual-reality system and then training people to use it. They can learn through virtual reality before accessing a new prosthetic device."
ISU mechanical engineering's role in the project is the robotic mapping of the motion to the human hand and the identification of body signals related to the motion intention.
"We have to simulate the motion of a human hand and make it move the virtual model with different nerve signals," Perez Gracia said. "We have to map the simple nerve signals into the motion of the whole human hand that is realistic."
Devine will be helping with the implementation of the device, testing rehabilitation protocols.
ISU and its partners received the grant through the NSF's General and Age Related Disabilities Engineering (GARDE) program, which supports fundamental engineering research that will lead to the development of new technologies, devices, or software for persons with disabilities. The grant's official title is "Collaborative Research – Augmented Perception for Upper-Limb Rehabilitation." ISU is receiving about $152,000 for its share of the grant.
Contacts: Alba Perez Gracia, Associate Chair/Associate Professor, Mechanical Engineering, 208-282-5655 or perealba@isu.edu, or Nancy Devine, Associate Professor of Physical Therapy, Associate Dean and Director, School of Rehabilitation and Communication Sciences, 208-282- 3992
---
Categories: